Book A French Quarter Hotel
The Historical Significance of Canal Street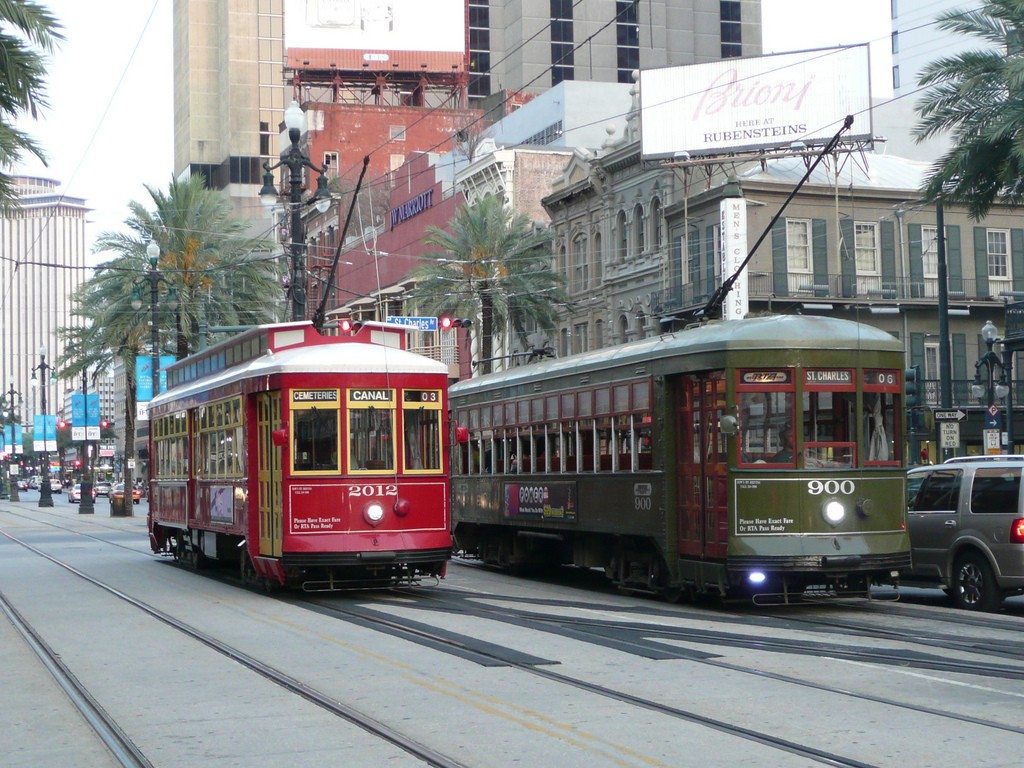 Streetcars on Canal Street. Photo by Tom Bastin on Flickr
At a grand 171 feet wide, traversed by streetcars, taxis, automobiles, cyclists, and pedestrians, Canal Street is more than just a major downtown thoroughfare. Throughout its 216-year history, it also has served as an entertainment district, shopping destination, parade route, and above all, a gathering place for New Orleanians.
Stand on this broad, bustling street and you can see New Orleans' history all around you — from the historic French Quarter to the Central Business District. You just have to know where to look. Here's a guide to Canal Street, and what it means to the city of New Orleans.
The origins of Canal Street
Canal Street dates back to 1807, when French surveyor Joseph Antoine Vinache first conceptualized it. A canal linking the Mississippi River, Bayou St. John and Lake Pontchartrain was planned in the empty green common area that now comprises Canal Street, but it never came to pass. Instead, the wide median became the heart of downtown.
The "neutral ground"
Residential, commercial and government buildings flourished along Canal Street in the 1800s, which became the dividing line between the primarily Creole French Quarter side, and the primarily American sector, which is now known as the Central Business District. Tensions often arose between these two groups, but Canal Street was a "neutral ground," a name that now extends to any median in New Orleans.
It's electric
Canal Street is not only one of the widest streets in the country, but it was also one of the first streets in the world to be lit with electric lights, joining London, Paris and New York in this early technological achievement. By the mid-1880s, Canal Street was completely lit by electric lights.
Department stores Maison Blanche and D.H. Holmes dazzled pedestrians in the late 1800s with brilliant displays of electric bulbs that would pave the way for neon displays in the 1920s and 1930s. Some signs, such as The Joy Theater and the Saenger Theatre, look very much the same today as they did in the mid-20th century.
A shopping destination
Many older New Orleanians recount their childhood shopping experiences at Canal Street department stores with a nostalgic smile and a sigh. It was common to don one's Sunday best, along with hats and gloves, to shop at Canal Street's department stores.
Though these businesses had mostly shuttered by the end of the 20th century, recent years have seen a resurgence in downtown shopping. The upscale Canal Place, the recently renovated Outlet Collection at Riverwalk, and the two-story H&M in the French Quarter are all evidence that downtown is resuming its place as a shopping destination. Some retailers, such as the family-owned menswear store, Rubensteins', open since 1924, or Meyer the Hatter, open since 1894, have never left the Canal Street area.
A gathering place
Canal Street is a place to congregate, celebrate and be entertained. Its movie palaces, now music and performance venues include the Saenger Theatre, The Joy Theater and Loew's State Theatre (sadly, now shuttered and in disrepair). Each year, during the weeks leading up to Mardi Gras, hundreds of thousands of people congregate to watch Carnival krewes roll down the traditional Canal Street route, just as they have since 1857.
A glance at old photographs of past Mardi Gras reveals that while many aspects of Canal Street have changed, many others have remained the same. In Canal Street, perhaps more so than in any other part of the city, it's easy to see both present and past shifting alongside each other, like a holographic snapshot of New Orleans' many stories.
Are you planning to spend some time in New Orleans soon? To stay close to all the action, book a historic boutique hotel in the French Quarter at FrenchQuarter.com/hotels today!
---
Related Articles