Book A French Quarter Hotel
Style, Flavor and History: Exploring the "Grande Dames" of Creole Dining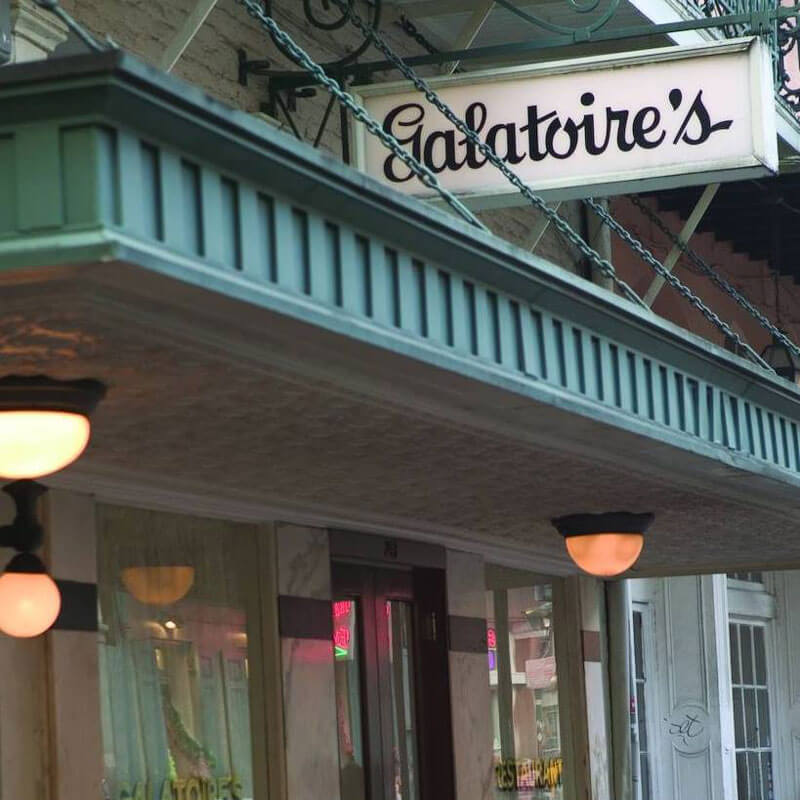 By: Ian McNulty
Only in New Orleans — and perhaps only at Galatoire's Restaurant (209 Bourbon St.) — would people greet with apprehension the news that soon they would no longer need to stand in line on the sidewalk to secure a table for dinner.
Eliminating that line was one upshot of the Creole restaurant's renovations, completed in 1999, which created a second-floor barroom for patrons waiting to be seated in a dining room with a strict first-come, first-seated policy.
In the end, most of Galatoire's regulars embraced this and other conveniences brought on by the renovation, but such is the reverence New Orleanians have for their city's famous old-line restaurants that any change to tradition — even one involving standing and waiting in the outdoor heat — is regarded with suspicion.
Not merely old, historic restaurants, Galatoire's and the other Creole "grande dames" of the New Orleans dining scene are deeply entwined in both the city's social history and the traditions of many local families. The chefs and proprietors of these restaurants have made indelible contributions to the local culinary culture, and in the process engendered an almost uncanny loyalty among patrons and intrigue for new visitors.
Part of what makes these grande dames so compelling is how their cooking and service style so often serves as a boldface refutation of modern restaurant trends practiced fervently elsewhere. While many chefs and restaurateurs strive to discover the "next big thing," these restaurants have grown famous for changing as little as possible over the course of generations.
The epitome of that proud status quo is on display at Antoine's Restaurant (713 St. Louis St.). Founded in 1840 by the Alciatore family, Antoine's is not only the oldest restaurant in New Orleans but also the oldest in America under continuous operation.
Formal and elegant, the restaurant is composed of a series of evocatively-named dining rooms (the "Mystery," "Japanese" and "Proteus" rooms among them), all connected by an almost labyrinthine system of corridors. The restaurant's ground-level wine "cellar," visible through a small, barred window on the 500-block of Royal Street, seems to stretch on endlessly.
Antoine's sprawling menu, written in French, could be a textbook for old-fashioned Creole cooking, featuring dishes like pompano en papillote — a superior local fish cooked in parchment with wine sauce — and grand desserts like baked Alaska. Among the more famous inventions of Antoine's kitchen is oysters Rockefeller, which with its rich, green sauce was named after the American tycoon.
A Real "Stand Up" Bar
If Antoine's extensive, French-language menu reflects its long history of serving Creole high society, Tujague's (823 Decatur St.) origins as a lunch and dinner room for merchants and laborers of the French Market and riverfront show up just as clearly in its own menu.
In fact, there is no printed menu here, but rather a prix fixe selection of five courses recited by the waiter. There is a choice of four entrees, but otherwise, everyone in the restaurant eats the same thing — the same communal dining style common in 19th-century eateries.
Shrimp remoulade is a mainstay, as is a very flavorful boiled beef brisket. And after courses of garlic-laden chicken bonne femme and boozy bread pudding, coffee with chicory arrives served in short glasses.
Founded by French immigrants in 1856, Tujague's is New Orleans' second oldest restaurant (only Antoine's is older) and its ambiance appears virtually unchanged from those antebellum roots. An elegantly simple saloon runs adjacent to the dining room, where generations of locals and visitors have sipped cocktails and quaffed beers. There are no stools at the bar, which perhaps helps concentrate patrons' attention on the ancient French mirror stretching virtually the length of the long room.
The Lunch Rush
Mirrors also figure prominently in the ambiance of Galatoire's. While the renovations mentioned above opened new seating areas on the second floor, locals know the real action is just inside the restaurant's front door in a bustling, brightly-lit dining room lined with mirrors — all the better to scope out the who's who scene of New Orleans dining.
Regulars jam the room for celebratory lunches that can last for many hours, as plates of crabmeat maison, green salad with garlic, trout meuniere, and shrimp Marguery are washed down by round after round of mid-day cocktails and wine.
Galatoire's isn't the only place where regulars convene almost religiously. Just around the corner at Arnaud's (813 Bienville St.), some more well-to-do patrons actually sponsored tables to help finance a multi-million dollar renovation undertaken at the sprawling establishment in the early 1980s. In exchange for $10,000, a plaque was set above a particular table marking it as that customer's own, while a $12,000 open tab was credited for him or her to return the investment with interest.
All it takes is a reservation to get a regular table for a meal here today, though the classic ambiance of the tin-ceiling, tile-floor main dining room and expansive lists of wine, cigars and liquors would make anyone feel like a high roller.
The restaurant was founded in 1910 by Arnaud Cazenave, a colorful French wine salesman who later came to be known as Count Arnaud, though the regal title was self-applied. Arnaud's grew quickly, absorbing adjacent buildings and cottages to form a contiguous palace for dining that includes 12 private rooms on the second floor alone, as well as its own small Mardi Gras museum. The menu features the Creole classics with some updated recipes, and a jazz band performs in the front dining room in the evenings.
Creole cuisine, at its heart, involves the classic cooking traditions of the French, deeply modified by the natural abundance and different cultural influences encountered in their former colony, New Orleans. At Broussard's (819 Conti St.), that Old World/New World dichotomy is reflected even in the surroundings.
Formal dining rooms set in a 19th-century mansion hark back to the opulence of imperial France, while the restaurant's cobblestone courtyard with flowering trees and a babbling fountain offers a textbox vignette of the city's lush subtropical splendor. Meanwhile, the menu mixes old with new as roasted rack of lamb and bouillabaisse share the stage with dishes like sugar-crusted ahi tuna.
Breakfast, Anyone?
The youngest of New Orleans stalwart restaurants is also perhaps its best known. Owen Edward Brennan, the son of a foundry laborer from New Orleans' Irish Channel neighborhood, was already an accomplished bar owner when, in 1946, he opened a French restaurant on Bourbon Street bearing his family name. Brennan's Restaurant (417 Royal St.) moved to its present location in 1956, occupying a grand old Vieux Carre building that dates back to 1795 and once housed the first bank to be chartered in New Orleans.
Almost from the start, the original proprietor set out to make breakfast the signature meal at Brennan's, and indeed the restaurant has long been famous for its decadent morning repasts (which can and do last long into the afternoon). The meal traditionally starts with cocktails, moves through a selection of appetizers and classic egg dishes and wraps up with dessert, often Brennan's own Bananas Foster.
And while breakfast "eye-opener" cocktails may be the traditional way to greet the morning at Brennan's, during dinner the restaurant's wine list takes center stage. With a truly staggering volume at 56 pages, the wine list runs to 3,000 offerings.
Are you planning to spend some time in New Orleans soon? To stay close to all the action, book a historic boutique hotel in the French Quarter at FrenchQuarter.com/hotels today!
---
Related Articles