Book A French Quarter Hotel
Frenchmen Street, a Block-by-Block Guide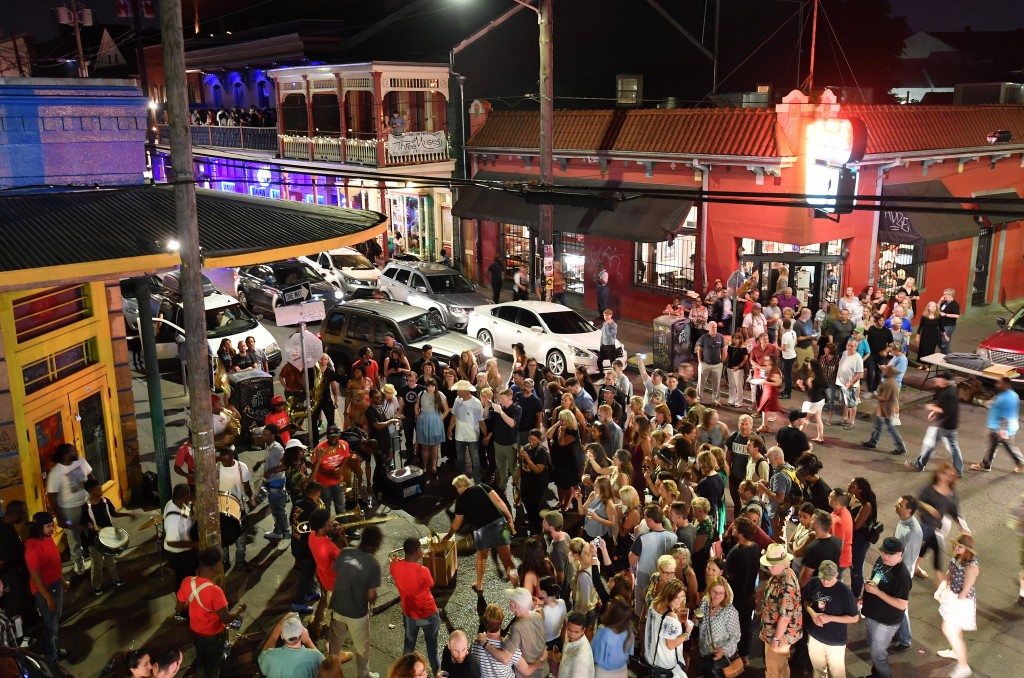 Frenchmen Street. Photo by Stephen McCarthy via Flickr
To this day, tour guides tell you that Frenchmen Street is an off-the-beaten gem, a "local's Bourbon Street" where real New Orleanians gather to listen to live music and grab a drink.
Excuse a bit of an eye roll on our part; that "locals-majority" term may have rung true at the beginning of the twenty-teens, and to a degree, it's an accurate description of Frenchmen throughout the 90s and much of the noughties. But the street really achieved a critical mass of popularity post-Katrina, and in the past few years, Frenchmen is tourist central come the evening, especially on weekends.
But so what? It's still a blast. On Frenchmen Street, certain things are just guaranteed: proximity to good music, good food, interesting culture, and an unbeatable street scene. Of course, this street is popular —  who wouldn't be lured in by those considerable qualities?
Here's our block-by-block breakdown of what to look for on Frenchmen Street, starting from the Decatur-Esplanade intersection and moving "down" towards St. Claude Avenue. Keep in mind that music sets usually pop off between 6 and 11 p.m., although there is always room for variation.
Note that we only cover the "music strip" of Frenchmen Street in this article; there are other parts of the street that include both residential, parkland, and commercial blocks.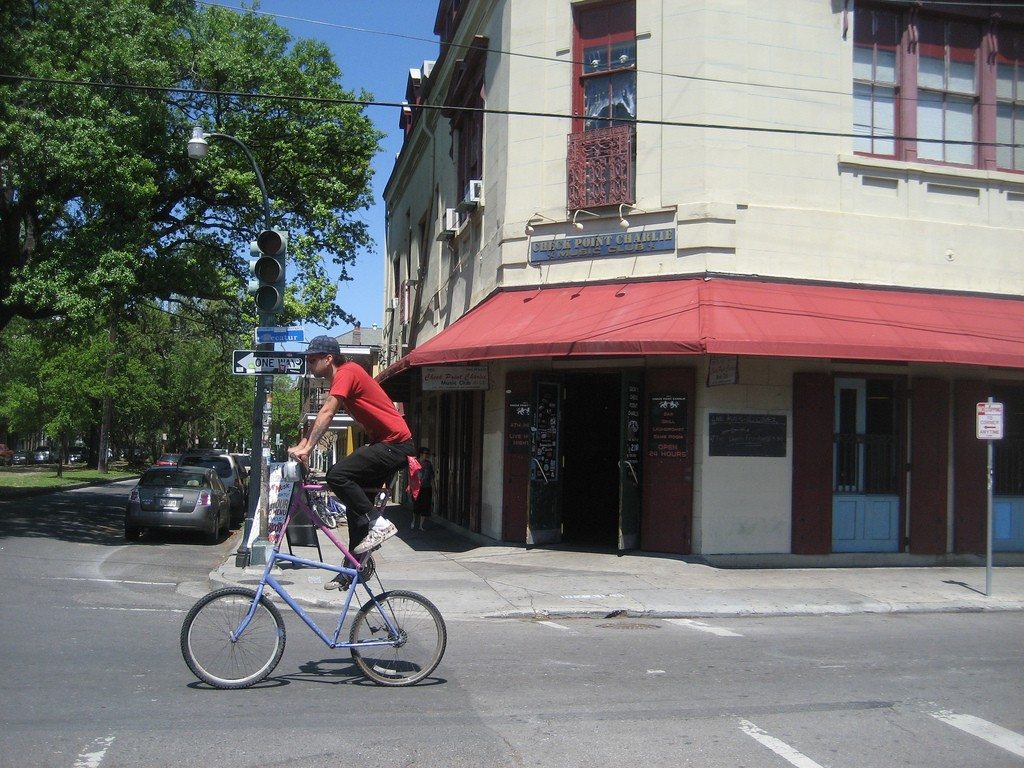 Check Point Charlie by Infrogmation of New Orleans on Flickr
Esplanade & Decatur
Of course, the weirdness gets a start right at the beginning of iconic Frenchmen. Heck, it gets a start before you even get on Frenchmen — there's usually a jumble of tourists, locals having a night out, and tribes of runaways in the neutral ground (median) that runs through Esplanade Avenue out here.
Be on the lookout for Check Point Charlie (501 Esplanade Ave). This may look like a rough punk music bar (and it still is, in a lot of ways) from the outside, but management attracts a pretty wide range of clientele. Check Point Charlie feels pretty divey, but once inside, the music is almost always wonderful. An added bonus: Check Point sells amazing cheeseburgers throughout the evening. A nicely charred patty on a bun is a great means of regaining energy during late Frenchmen Street nights.
Further "up" the street into Faubourg Marigny, Frenchmen Street starts to come into its own around Vaso (500 Frenchmen Street), a joint that tends to play "just the facts ma'am" jazz and R&B. The menu is casual Cajun/Creole fare.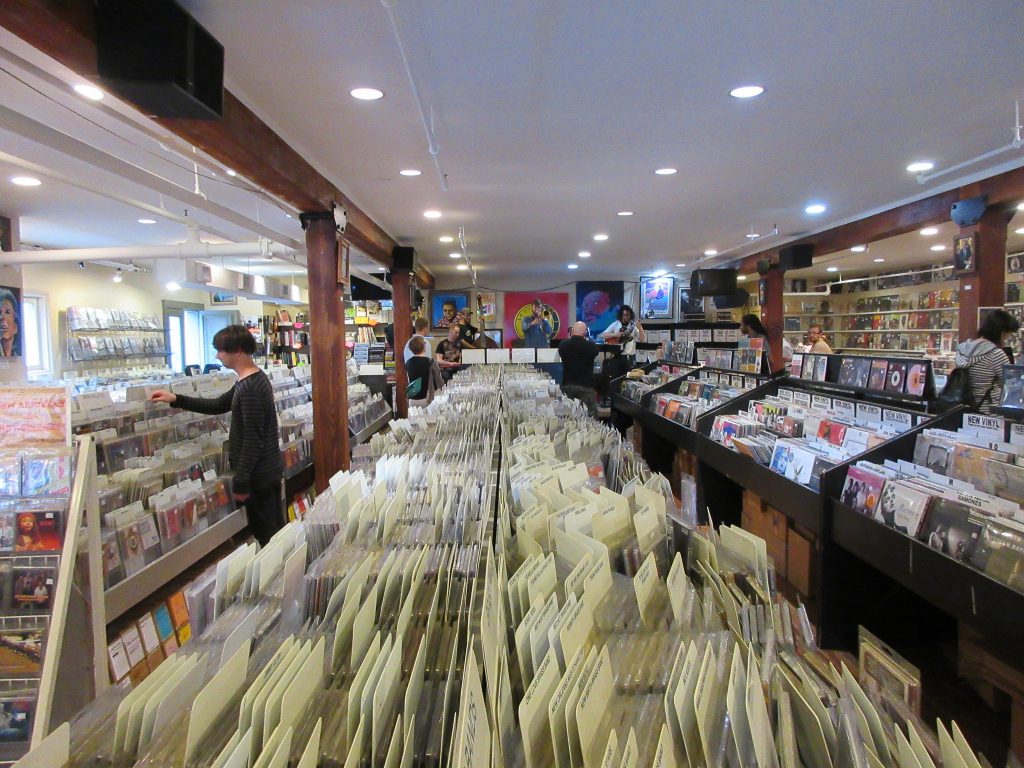 LA Music Factory. Photo by Infrogmation New Orleans on Flickr
Esplanade & Decatur, Part 2
The city streets do a weird geography trick, forming a "v" around the Faubourg Marigny fire station. Frenchmen Street exists on both sides of that "v."
Just around the corner (and technically not on Frenchmen, but worth noting) is the Dragon's Den (435 Esplanade Avenue), one of the city's standout music clubs. You won't get any PreHall-style Dixieland jazz here — the Den, which has been featured in TV shows like True Detective, is all about an eclectic range of music, from DJ nights to reggae to Latin dance parties.
Also at the edge of this block: the enormous Louisiana Music Factory (421 Frenchmen Street), your one-stop shop for all things related to the state's considerable musical heritage. Seriously, if someone cut an album and has a connection to the state of Louisiana, chances are the staff here can get that music into your hands.
Beyond the above, be on the lookout for popup art galleries and similar businesses in this stretch of Frenchmen.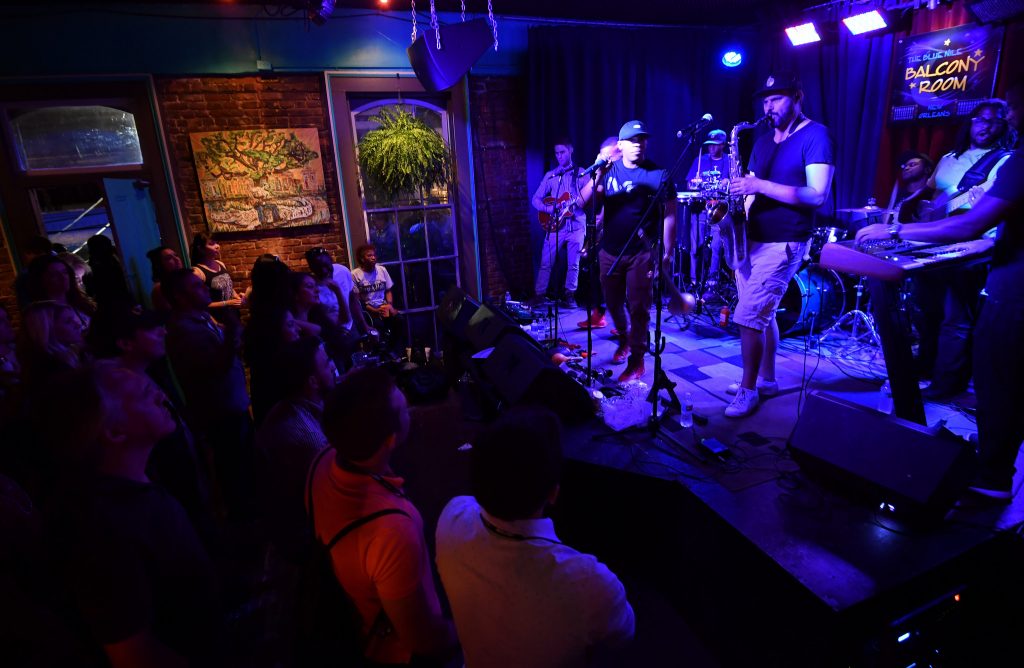 Blue Nile on Frenchmen Street. Photo by Stephen McCarthy via Flickr
Between Decatur & Chartres
Now the street is getting hot.
First up: The now-vacant space at 504 Frenchmen Street, which used to be home to the mainstay Mona's, replaced post-pandemic by the now-defunct Torshi. We're hoping the space won't stay vacant for long. Just across the street, a little ways off of Frenchmen, is the Brieux Carré Brewing Co. (2115 Decatur Street), a microbrewery with a dozen taps, snacks and an outdoor seating area (what else would we need, right?)
Moving on. This is Frenchmen Street, so music is in the cards. The Maison (508 Frenchmen Street) is a relatively new bar compared to some of its neighbors on this street, yet it is one of the major centers of gravity for local live music. Jazz acts take over the large front area, where you can order excellent imbued spirits from behind the bar. This spot, plus nearby Bamboula's (516 Frenchmen Street), seems to attract a younger crowd on the weekends, although to be fair, you can get any kind of crowd anywhere depending on the time of the year.
Further down the street, we come across Blue Nile (532 Frenchmen), one of the city's great jazz clubs. There's never really an off night here, although you can get acts ranging from raucous brass band dance parties to soulful crooners; make sure to check the online schedule before you pop in.
Nearby, the Three Muses (536 Frenchmen) is one of the great dinner-and-a-show venues in town, seeing as it combines those two elements on any night you please. It can get crowded, so you want to make a table reservation (good for 90 minutes, after which you can go to the bar.) The rule makes sense, else everyone would sit through the nightly shows and no tables would ever open up.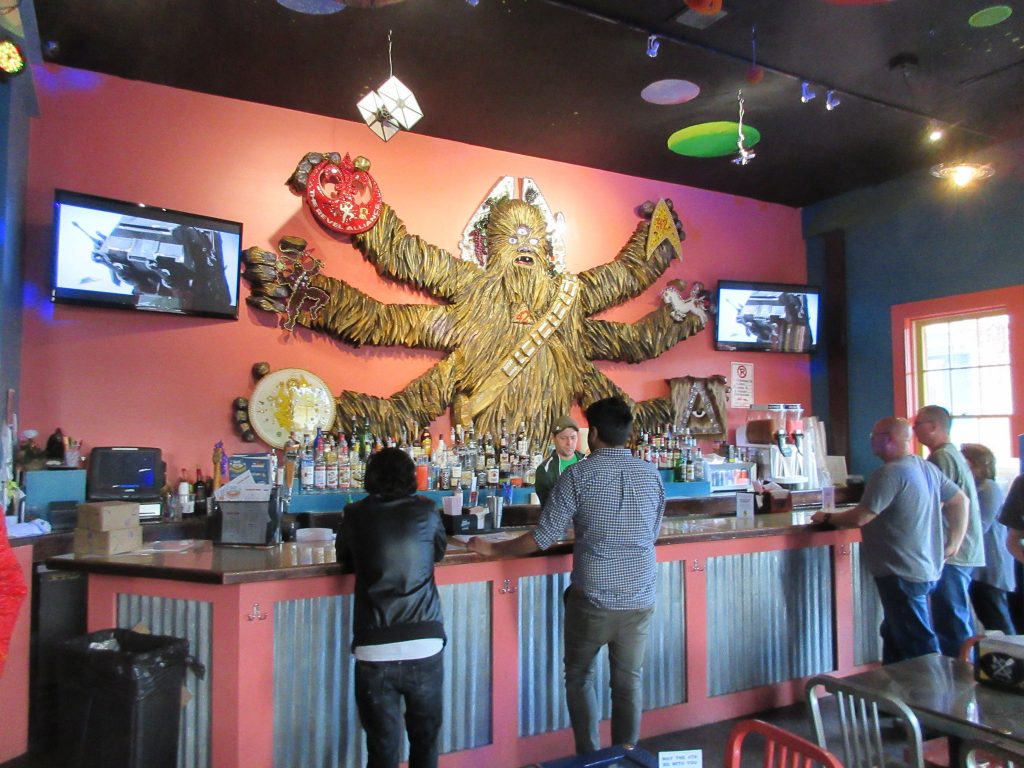 Dat Dog. Photo by Infrogmation of New Orleans
Between Chartres & Royal
Pro tip: Not only is the second floor of Dat Dog (601 Frenchmen) filled with decorations culled from the Krewe of Chewbacchus (the city's science fiction/fantasy-themed Mardi Gras krewe), the balcony is a great spot for people-watching, especially the bands that often play at the intersection of Frenchmen & Chartres. The hot dogs are pretty amazing too.
Cafe Negril (606 Frenchmen) is one of our favorite spots for reggae and dancehall music in the city, not least because there's an excellent taqueria slinging tacos in the back kitchen. Across the way, the Apple Barrel Bar (609 Frenchmen) is the smallest, most intimate venue in New Orleans; upstairs, you can treat your date to a romantic Italian dinner at Adolfo's.
Afterward, head next door to the Art Garden & Floating Gallery (613 Frenchmen), an open-air venue that showcases local artwork, sculpture and crafts. Want a souvenir from New Orleans? Get one here, as you're giving your money directly to local creators.
We continue this trip with three excellent jazz clubs: d.b.a. (618 Frenchmen), with its enormous beer and whiskey menu and consistent lineup of great acts; Snug Harbor (626 Frenchmen), the classiest jazz joint in the neighborhood, where you can enjoy a dinner with your show; and The Spotted Cat Music Club (623 Frenchmen), a club where you can groove to some of the most talented live acts in the city.
On the same block, you'll find Frenchmen All Day (630 Frenchmen St.). Small and quaint, Frenchmen All Day is a cafe with indoor seating, as well as sidewalk cafe seating, a full bar, coffee, and brunch fare. The menu has breakfast quiches, Cuban sandwiches, and NOLA staples like crawfish etouffee. The last venue we'd like to highlight that lives on the block is Marigny Brasserie (640 Frenchmen St.). This casual, live music venue at the end of Frenchmen offers an elevated Cajun/Creole menu, hand-crafted cocktails, a good wine list, and local draft beer plus, of course, live music.
Between Royal & Dauphine
Across the street, on the 700 block of Frenchmen Street, you'll find the tiny but popular Remedy Bar (700 Frenchmen St.). Sharing the same address is Mr. Joe's Island Grill & Seafood BBQ, where you can get ribs, jerk chicken and smoked brisket platters till 2 a.m. We end our journey at Washington Square, a charming, historic park where you can walk your dog, rest on the benches in the shade, picnic, fly a frisbee, or hit the small playground with your kid.
For more, check out our guide to the Famous Streets of the French Quarter.
Also, are you planning to spend some time in New Orleans soon? To stay close to all the action, book a historic boutique hotel in the French Quarter at FrenchQuarter.com/hotels today!
---
Related Articles