Book A French Quarter Hotel
French Quarter Shopping: The Royal Way
By: Jyl Benson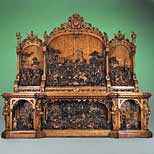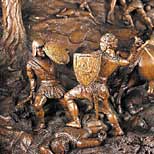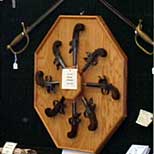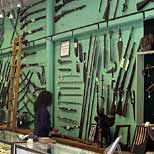 Top to bottom: M.S. Rau's Chevy Chase sideboard. Sideboard Detail. Antique Pistols from Cohen & Sons. A Shopper Browsing a Display of Antique Armaments
In the mid-1800s furniture maker Gerrard Robinson of Newcastle, England, was oddly inspired to dedicate six years of his life toiling to visually render the tragedy of the 15th century Ballad of Chevy Chase in dense oak. The result defined the carver's life. The six paneled Chevy Chase Sideboard measures an astounding 12 feet wide by 10 feet high by 4 feet deep. This piece of "furniture" captures the horrors of war in a tangible way no other medium could. So intricate are the details that tears and perspiration are visible upon the faces of the warriors and the leaves upon the trees and the manes of the war-horses seem to sway in an unseen breeze.
The sideboard has long been one of Britain's national treasures. It has been extensively documented in antique and scholarly circles and is considered by many to be among the finest, if not the finest, piece of furniture ever made. For 80 years the city of Shaftsbury listed it as one of the two top attractions for visitors.
This icon of the Victorian era is currently available for sale at M. S. Rau Antiques on Royal Street in New Orleans. It will set you back $750,000, but, as a practical dining room sideboard it will set off your holiday buffet casseroles to stunning effect. Just imagine the "oooos" and "ahhhs" you'll get from old Aunt Gertie when she shuffles over to scoop up her serving of oyster dressing…..
The Chevy Chase Sideboard is but an example of the uniqueness and quality of goods that have been available for purchase on Royal Street over the years. The possessions of kings, Popes, Shahs, shamans, exorcists, presidents, cultural icons and the damned have been amongst vast array of art, artifacts and antiquities to have crossed the thresholds of the elegant showrooms lining this French Quarter route.
From its inception New Orleans' success as a port galvanized furniture merchants to establish small shops along Royal Street, once the city's center of commerce and banking. As vessels from around the world pulled up to the Mississippi River docks, purveyors were right there to unload the European goodies spilling out of the shipping containers and haul them the short distance back to the showroom floor. During the 19th century, in addition to shops offering imported goods, the street also supported several fine furniture craftsmen including the famed Prudent Mallard, whose imposing creations grace many a local home today.
New Orleans' modern standing as the second largest port of entry for antiques into the United States ensures the perpetuation of Royal Street's heritage as a hot spot for the finer things, a heritage that has been lovingly cultivated by dedicated proprietors since those first furniture vendors came on the scene in the 1880s. Many of the French Quarter's art and antique houses have remained within the same families for generations and, while it's unlikely you will witness modern proprietors hoofing it down the street dragging armoires behind them with pulleys, many of them are overseeing businesses established by their ancestors well over a century ago.
Barry Cohen now operates James H. Cohen & Sons, which was established at its current location in 1898 by his great-great grand father, William Feldman. Cohen sells mostly antique weapons, Civil War items, rare foreign and American coins and estate and modern jewelry.
Cohen recently sold a rare Henry rifle for a tidy $20,000. The rare Civil War-era weapon was the first type of Winchester rifle ever made. "I have another gun that was made in New Orleans between 1858-1863 – during the Civil War," Cohen said. "It was made by a Confederate gun maker and was most likely used by a Confederate soldier. This would make it very, very rare. Most of their weapons were destroyed."
Those judicious Yankees were taking no chances.
Besides the Roman coins bearing the likeness of Caesar, French dueling pistols and whatnot, other relics of New Orleans' history line Cohen's cases. For the right price Cohen will surrender a Civil War sword that was made by a local metal smith (and most likely used to slay a few Yankees); silver and gold coins that were struck right over on Esplanade Avenue at the long-defunct Mint; and a Dix note – the lavishly adorned paper currency that is believed to have inspired New Orleans' moniker – "Dixie."
In addition to oddities and relics, New Orleanians' historically opulent tastes have long supported a thriving market for the carved, curvilinear furnishings of the 18th and 19th centuries. Imposing rosewood, walnut and mahogany beds and armoires of the Victorian era, which were designed to complement the markedly high ceilings in New Orleans homes, remain a popular choice among collectors. However, increased demand by current generations have resulted in purveyors' extending their offerings to include handsome selections of Art Deco pieces from the 1920s and 30s as well as streamlined Retro choices from the 1950s, 60s and 70s.
Many of the Royal Street merchants are members of the Royal Street Guild, an organization dedicated to the assurance of quality, integrity and authenticity in goods and services obtained on Royal Street. All collectible purchases are protected and guaranteed.
You'll breathe a bit easier when you write the check for that sideboard…….
Jyl Benson is a New Orleans-based writer and publicist and frequent contributor to Time, New Orleans, St. Charles Avenue and the Times Picayune. She also regularly contributes to travel and guide books on New Orleans and the Gulf Coast.
---
Related Articles