Book A French Quarter Hotel
Nola Funk Fest 2023: Celebrating Louisiana's Rich Musical Heritage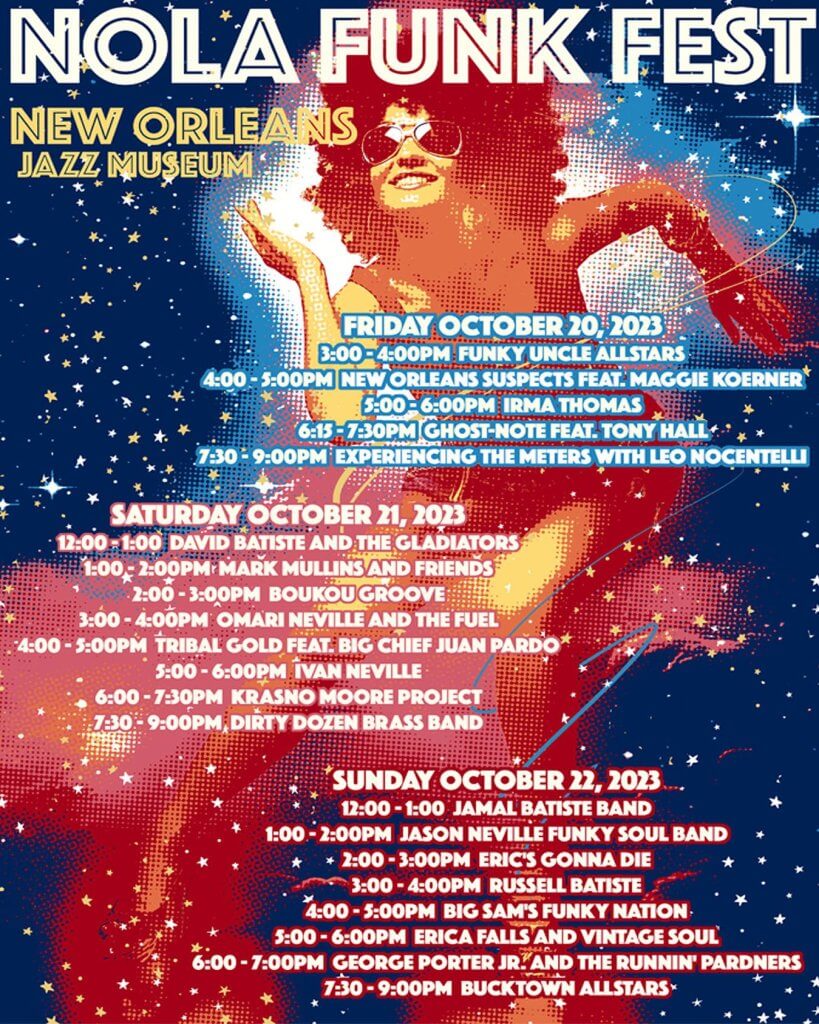 Are you ready for a three-day musical extravaganza that celebrates the rich heritage of Louisiana's music scene? Look no further than the inaugural Nola Funk Fest, taking place from October 20 to October 22, 2023, at the iconic New Orleans Jazz Museum, located at 400 Esplanade Avenue right between the French Quarter and the Marigny. This festival promises to be a grand celebration of funk music and a glimpse into the future with The Louisiana Music & Heritage Experience. Let's take a closer look at what Nola Funk Fest has to offer.
The Louisiana Music & Heritage Experience
Nola Funk Fest serves as the grand unveiling for The Louisiana Music & Heritage Experience, an ambitious project that aims to create a 120,000-square-foot museum, set to be built across from the New Orleans Convention Center, dedicated to the preservation of Louisiana's rich musical history. This museum, with a projected opening in 2027, will tell the captivating story of music in Louisiana, from its roots in Congo Square to the contemporary sounds of today. What sets this museum apart is its commitment to interactivity and live music performances. It's not just about looking at artifacts; it's about experiencing the music in a new way.
"I Found My Thrill: The Music and Artistry of Fats Domino and Dave Bartholomew"
The museum's mission is to empower and educate visitors about the rich and evolving history of Louisiana music. It seeks to showcase the profound impact of this music on American culture and the world. Nola Funk Fest provides a sneak peek into what the museum will offer, making it a must-visit event for music enthusiasts and culture aficionados.
One of the highlights of Nola Funk Fest is the exhibit titled "I Found My Thrill: The Music and Artistry of Fats Domino and Dave Bartholomew." This exhibit, opening on October 21, delves into the intricate relationship between Fats Domino and Dave Bartholomew. It explores their creative processes, showcases their hit songs, and examines their place in American music history. The exhibit will run for 20 weeks, before embarking on a state-wide tour, allowing attendees to explore the musical journey of these iconic artists.
Symposiums: The Bridge Between Jazz & Blues and R&B, Rock & Roll, and Funk
Nola Funk Fest doesn't stop at the music; it's also a platform for learning and understanding the evolution of musical genres. The festival hosts two symposiums: one dedicated to Earl King on Saturday, October 21, and the other to Dave Bartholomew on Sunday, October 22 (both already sold out, unfortunately). These symposiums feature family members of the artists, historians, guest musicians, and the backing band led by George Porter. They provide an engaging platform for exploring the connections between Jazz, Blues, R&B, Rock & Roll, and Funk.
Live Music Lineup
The heart of Nola Funk Fest is its outstanding lineup of musical performances. With 34 of the city's best local funk acts gracing two stages, this festival promises to be a non-stop party for music lovers. The star-studded lineup includes Grammy Lifetime Achievement Award recipient Leo Nocentelli with Experiencing The Meters, Grammy icons Irma Thomas, George Porter Jr., and The Dirty Dozen Brass Band. Also, look for Ivan Neville, Big Sam's Funky Nation, Bucktown All-Stars, and the Russel Batiste tribute. Additionally, students from the New Orleans Center for Creative Arts (NOCCA) and Loyola University will take the stage at the "Passing the Torch Stage," showcasing the next generation of musical talent.
Costume Contest
For those who love to dress up and get into the festival spirit, Nola Funk Fest has a costume contest presented by Disco Warehouse. It will be held on Saturday, October 21, at 6 p.m. on the JAMNOLA stage, with cash prizes totaling $1,000 for the top three costumes. So, bring your best funk-inspired costume and join in the fun!
Tickets And Other Information
One-day tickets: $45
VIP one-day tickets: $135
Three-day tickets: $100 (advance prices)
Symposium tickets: $30 per day, $50 for both
Student performances are free of charge (along Barracks Street, just outside the paid festival areas)
No outside chairs, coolers and ice chests, and no food and drink
A handful of food vendors will be on-site, including Ms. Linda Yakamein, Boucherie, Cochon King BBQ, Valerie's Snowballs, and more
Don't miss the chance to be a part of this incredible celebration of Louisiana's musical heritage and to support the development of The Louisiana Music & Heritage Experience museum. Early bird tickets are available on the Nola Funk Fest website. Make sure to mark your calendar for October 20-22, 2023, and get ready to groove to the rhythm of Louisiana's soulful music at Nola Funk Fest!
For more information and ticket details, visit the official Nola Funk Fest website: https://www.nolafunkfest.com/ Follow the updates on Instagram and Facebook.
Need a hotel? To stay close to all the action, book a historic boutique hotel in the French Quarter at FrenchQuarter.com/hotels today!
---
Related Articles