Book A French Quarter Hotel
Famous Streets of the French Quarter: North Rampart Street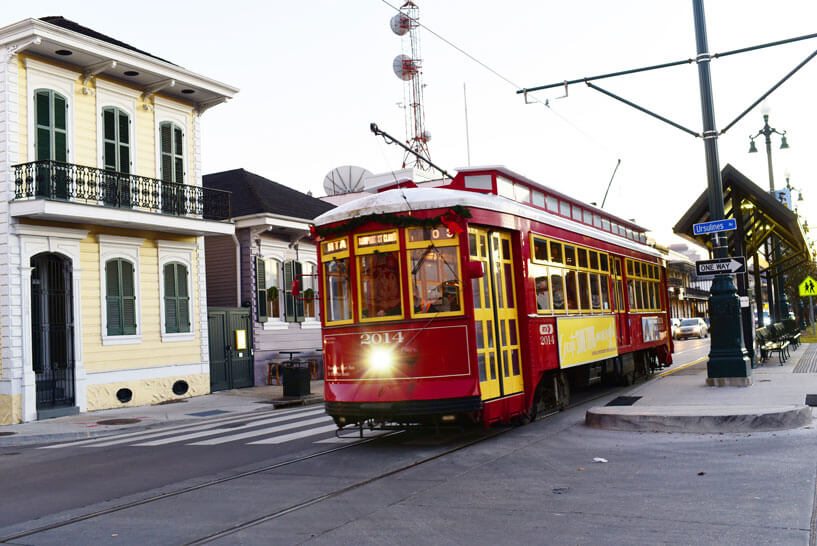 Rampart-St. Claude Streetcar by Cheryl Gerber
For people who like living on the edge — of the French Quarter, that is — North Rampart Street is where it's at. This street serves as the northernmost boundary of the French Quarter, dividing it from Tremé. You'll find less foot traffic on this bustling thoroughfare than in other places in the Quarter, but no shortage of photo-worthy destinations. Plus, thanks to the recently installed streetcar line, getting around Rampart Street is a snap. Here are a few must-visit destinations on the historic thoroughfare, starting by Canal Street and going toward Esplanade Avenue.
Rampart-St. Claude Streetcar Line
Long ago, almost all of New Orleans was crisscrossed by streetcar tracks. In the mid-20th century, streetcars fell out of favor as buses became the norm, and many tracks were ripped up and repaved. Today, this charming, energy-efficient form of mass transportation keeps regaining popularity.
The newest streetcar line is the Rampart-St. Claude route, which travels from the New Orleans Union Passenger Terminal to the intersection of St. Claude Avenue (Rampart changes to this name when it passes Esplanade Avenue) and Elysian Fields Avenue in the Marigny. Each ride costs only $1.25 (exact change required; or you can buy passes for up to one month online).
Saenger Theatre 1111 Canal Street
The beautiful, 4,000-seat theater opened in 1927 as a silent movie destination. Recently renovated after years of neglect following Hurricane Katrina, it shines more brightly than ever. One hundred and fifty lights twinkle in the domed auditorium ceiling, evoking a starry nighttime sky, and the entire interior resembles a 15th-century Italian courtyard replete with columns, arched doorways and mosaics. Broadway shows, touring musicians and comedians all make stops at this theater, which is listed on the National Register of Historic Places — and you should, too.
New Orleans Athletic Club 222 N. Rampart Street
Established in 1872, this marble-clad, chandelier-hung gym boasts the Old World-opulence you'd expect of a club where Tennessee Williams and Clark Gable once worked out. Modern exercise equipment meets luxurious amenities, including a saltwater lap pool, free parking, over 50 group exercise classes, and a full bar. Your hotel key, ID and $20 gets you a day pass to this storied gym, and you truly can make a day of it. Start with free coffee and newspaper in the library, move on to a yoga class in the ballroom, then sit in the sauna, shower, grab a cocktail, and finally head out on the town feeling refreshed.
Arrow Café 628 N. Rampart Street
Patrons say the coffee at this quaint café is the best in New Orleans — and it's joined by organic iced teas, vegan pastries, and small gift items. Whether you're looking for a pick-me-up or a souvenir, this petite coffee oasis delivers.
Black Penny 700 N. Rampart Street
This dive bar has several pages' worth of craft beer on the menu (50, in fact, and most come in a can). The space is both weathered and welcoming, featuring a refurbished bar, exposed brick and beams, and long booths. This popular spot also hosts Vietnamese style crawfish boil when the mudbugs are in season: Lemongrass butter, sweet Vietnamese sausage and pineapple are involved, plus Dong Phuong's famous bread to sop it all up.
Louis Armstrong Park 701 N. Rampart Street
Inside this leafy, 31-acre park, a large statue of Satchmo himself presides over fountains, walking trails, lagoons, and the Mahalia Jackson Theatre. Armstrong Park is also the location of Congo Square, where enslaved Africans and free people of color congregated on Sundays to socialize, dance and sell goods in the 18th and early 19th centuries. This historic park is the birthplace of jazz, named for a jazz legend, and it's definitely worth a visit.
Mister Gregory's 806 N. Rampart Street
Downstairs, Mr. Gregory's is an artsy, friendly coffeeshop with a French-inspired menu of pain perdu (French toast), Croque style sandwiches, croissants, and chicory café au lait. During Mardi Gras season, Mr. Gregory's serves its famous house-baked King Cakes (whole and by the slice) — those are done French style — as Galette des Rois, filled with Creole cream cheese and almond paste.
Upstairs, Mr. Gregory's hosts prix fixe Gulf shrimp boils Thursdays through Sundays. The BYOB, reservations-only experience includes live entertainment (mostly burlesque and drag queens), and a menu of alligator tasting, deviled blue crab remoulade, cochon de lait jambalaya, and lots of traditionally boiled Gulf shrimp.
Bar Tonique 820 N. Rampart Street
For the destination revered for its perfectly crafted cocktails, there's not an ounce of pretentiousness about Bar Tonique. It's small, cozy, and even romantic (there are comfortable couches, nooks, and a fireplace). Overall it feels more like a neighborhood bar, with specials chalked on the board (no food, no live music), not a cocktail lounge. The ingredients, however, are often house-made, and the extensive menu is staggeringly categorized. During the popular happy hour (noon to 5 p.m. on weekdays) you can get $5 cocktails like a Sazerac or an Old-Fashioned. There are also $5 daily specials (whiskey flights Tuesdays and caipirinha Thursdays, for example). Some are unique to the bar; others are modern twists on the classics, with welcome deviations and house-made syrups. Service industry folks enjoy a discount.
Meauxbar 942 N. Rampart Street
This beautifully appointed bistro on N. Rampart Street serves a refined cocktail and a variety of eclectic, beautifully executed small and large plates. The menu is high-end French comfort food with local nods, such as Gulf fish Amandine, sweetbreads, and fried oysters. A well-curated wine list and Meauxbar's own interpretations of cocktail classics complement those nicely.
Effervescence 1036 N. Rampart Street
The French Quarter has a champagne-centric bar to call its own. Effervescence opened its tall doors on N. Rampart St. in March of 2017 and has become the destination for high-to-low sparkling wines from all over the world, champagnes, small plates, and live music. The setting is modern and polished, and there's ample outdoor seating. There's also a full bar, and dozens of still wine by the glass and bottle, plus a limited beer selection — but it's the bubbles you'd come for. Check out a variety of themed flights, or order half a glass, if you'd like to try a variety. The small plates are meant to be shared — like the Gulf seafood plate or crispy Brussels sprouts. Effervescence is also a good spot to try caviar, from the prized ossetra to the local (and more affordable) bowfin.
---
Related Articles