Book A French Quarter Hotel
Burgundy Street, a Block-by-Block Guide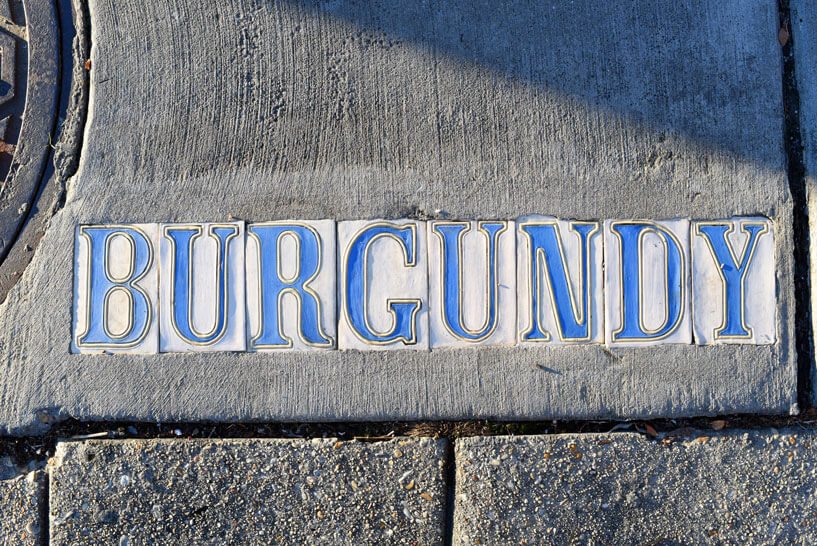 The French Quarter is many things: a historic site, a shopping and entertainment district, a premiere food and drink destination, and, to many tourists, an adult Disneyland. But for roughly 4,176 New Orleanians, according to the 2020 Census, the French Quarter is home.
Nowhere is it easier to remember that the Vieux Carre is a living, breathing neighborhood than on Burgundy Street. Unlike Bourbon Street, with its daiquiri bars and strip clubs, or Royal Street, with its antiques shops and boutiques, Burgundy Street is lined with the down-home essentials that make the French Quarter livable.
From parks to bars, Burgundy Street is the place to go if you want to live like a local. Here are a few favorite neighborhood hangs.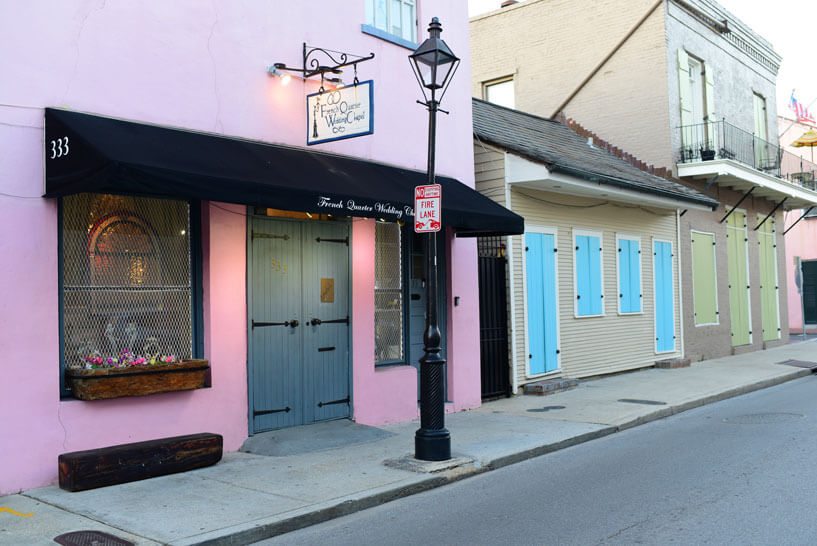 333 Burgundy Street
From cake pulls to second lines, New Orleans has rich wedding traditions, which is just one reason so many couples plan destination weddings in the Big Easy. But for spur-of-the-moment nuptials, this petite, 24-hour wedding chapel fits the bill. Reverend Tony Talavera (Rev. Tony) can waive the 72-hour waiting period that usually accompanies a wedding license application, so you can get married on the spot.
Whether you want a quick 20-minute ceremony or a two-hour affair that includes a violinist, photography, second line, and hankies for 50 guests, there's a package for every price and preference. You can also get a "specialty reverend" (Elvis, vampire, Wicca, or voodoo). It's no wonder more than 15,000 people have gotten hitched here.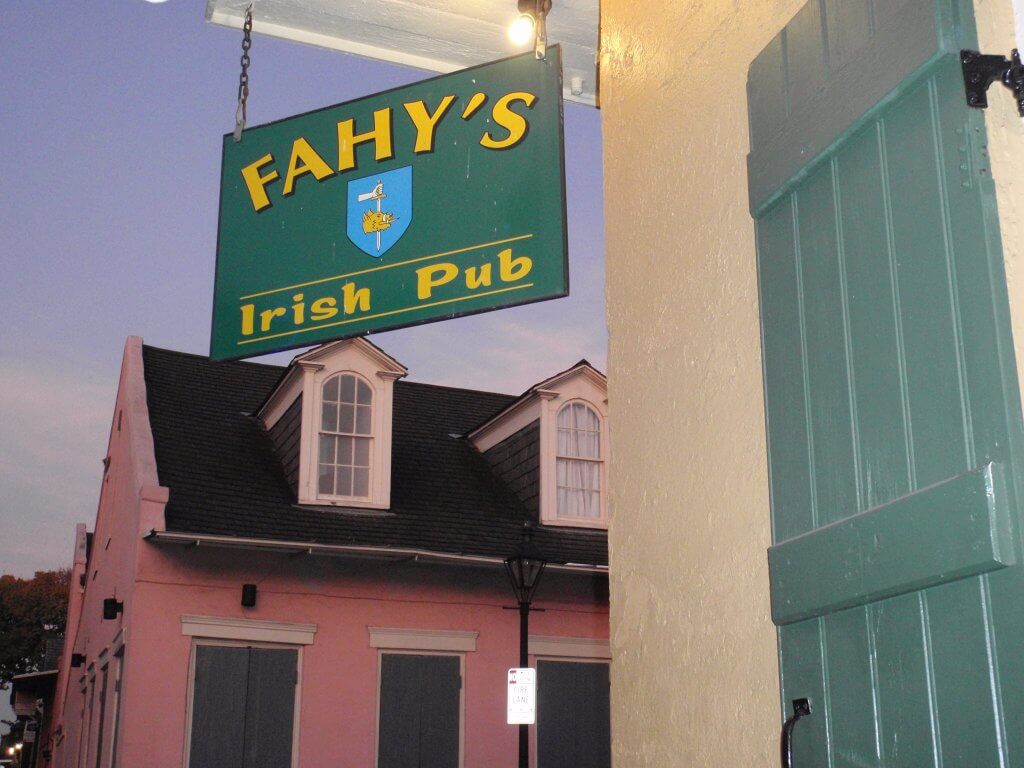 Photo courtesy of Fahy's Irish Pub on Facebook
540 Burgundy Street
Fahy's is a decidedly local scene, especially after restaurants and other bars begin ending their shifts for the night. The popular drink at Fahy's is a local version of the "mind eraser," a sweet vodka concoction served in a pint glass and slurped quickly by two or more people simultaneously through straws in a race to the bottom. Pool is very popular here, as evidenced by the rows of small, wooden lockers for regulars to stow their personal pool cues and gear.
740 Burgundy Street
This down-to-earth gay leather bar has daily happy hours, pool, a jukebox, a laid-back vibe, and adult videos on TV. Although The Silver Fox bills itself as a craft cocktail bar, the prices are reasonable. There's also a dance floor with an abundance of disco balls. You can't beat the location, either.
Quarter Grocery & Deli
836 Burgundy Street
Along with sundries and alcohol, this unassuming convenience store also has a deli with sandwiches and po-boys. How great is that? Especially since the French Quarter isn't exactly teeming with convenience and grocery stores.
931 Barracks Street
Although its official address is 1219 Dauphine Street, this fenced playground backs up to Burgundy Street. If you're traveling with kids, it's a must-stop and a great place to let little ones burn off excess energy. Slides, climbing equipment, jungle gyms, grassy fields, and more are all available at this neighborhood park. You can also walk your dog there, as long as your furry companion is on the leash.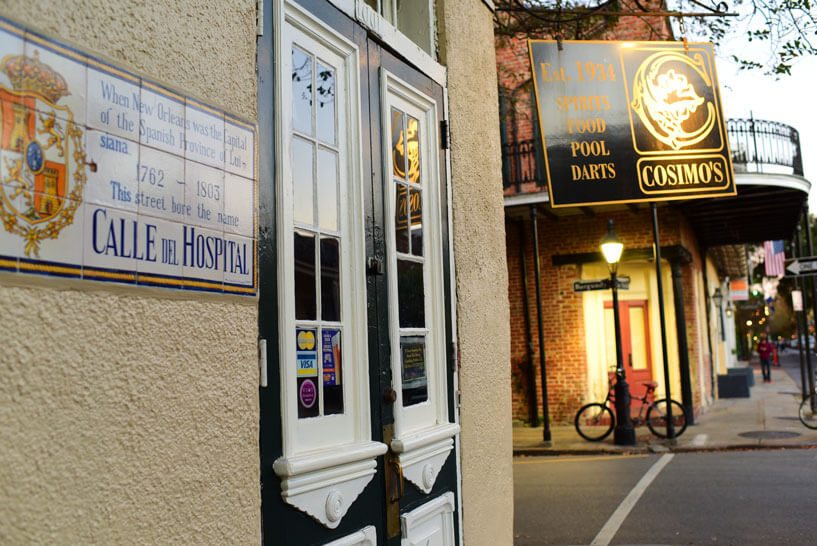 1201 Burgundy Street
This dim, dog-friendly neighborhood hang is just the place when you're in the mood for a pint and conversation in a laid-back environment. During crawfish season, you might get lucky and stumble upon one of Cosimo's boils, and the bar serves top-notch pub grub year round. It's a great place to take in a New Orleans Saints game, too. Plus, there are pool tables, Pac-Man and pizza — what more could you need?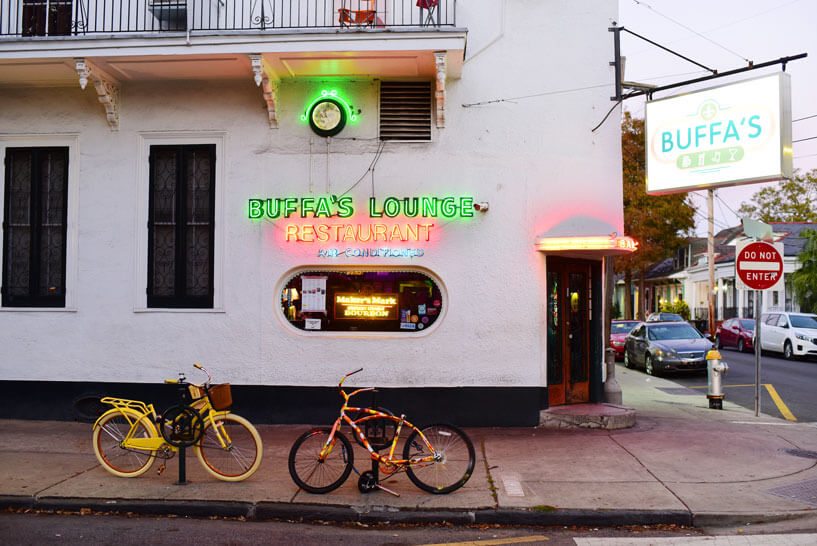 1001 Esplanade Avenue (where Esplanade Avenue meets Burgundy Street)
A neighborhood staple since 1939, this beloved neighborhood destination isn't so much a dive bar as it is a community center. On any given night, patrons will find live music, open mics and more in Buffa's back room. The menu ranges from classic bar bites (burgers and fries) to Louisiana fare (gator balls and red beans and rice). Plus, there's breakfast and a Sunday brunch. Another plus — Buffa's is open (and serves food) till 2 a.m. every night. Buffa's is technically located in the Marigny, but it's right across the street from the French Quarter, so it's good enough of a reason to recommend it.
2001 Burgundy Street
Looking for a brunch? Cross over into the Marigny and hit up The Ruby Slipper, a local chain serving Louisiana-tinged breakfast staples, such as barbecue shrimp and grits or banana pecan pancakes. Plus, there's a full bar. Just don't get there too late — this popular spot attracts a weekend crowd and long waits.
For more, check out our guide to the Famous Streets of the French Quarter.
Also, are you planning to spend some time in New Orleans soon? To stay close to all the action, book a historic boutique hotel in the French Quarter at FrenchQuarter.com/hotels today!
All photos except Fahy's Irish Pub are by Cheryl Gerber
---
Related Articles