Book A French Quarter Hotel
How to Dress for Voodoo Music + Arts Experience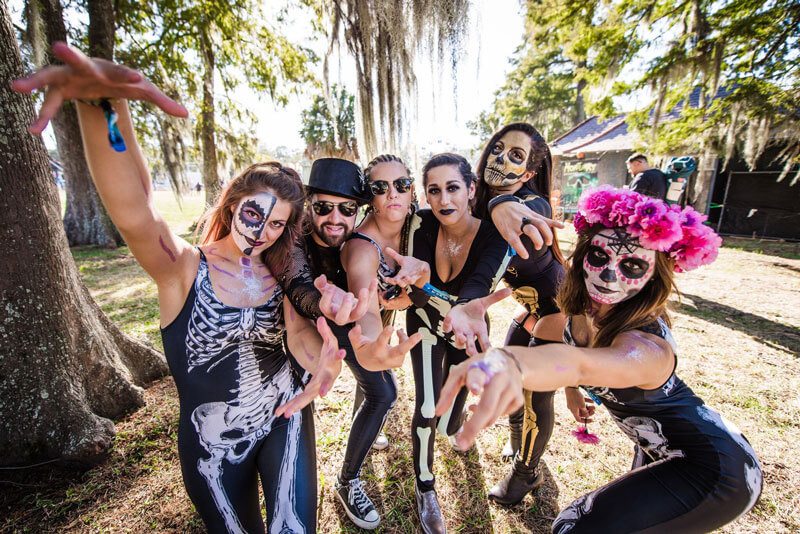 Photo courtesy of Voodoo Music + Arts Experience
Dressing for music festivals is always a challenge. How do you strike the perfect note between practical and Instagram-perfect? Throw unpredictable weather and Halloween into the mix, and you have a recipe for one of the most daunting wardrobe events ever. That's why research, preparation and weather apps are your best friends when it comes to dressing for Voodoo Music +Arts Experience. Follow this advice, dress for fun and comfort!
Lovely layers
At Jazz Fest, you pretty much know what kind of weather to expect: hot and humid. However, the weather in late October can vacillate between warm and muggy to wet and rainy to cold and windy—sometimes all in one day. Check the weather reports beforehand and prepare accordingly.
Layers are your best friend, but they needn't be boring and utilitarian—they can make a statement that's all their own. Tie a flannel around your waist during the day and layer it under a moto jacket at night. Or bring a scarf that can double as a blanket or head wrap. You'll be glad you have these multitasking pieces when the sun goes down and a chill sets in.
Comfortable shoes
Voodoo sprawls across 50 beautiful, wooded acres of City Park. Whether you're trekking from your parking spot to the front gate,  standing in line at the amusement rides or staking out a prime spot by the main stage, you'll be on your feet for hours on end. Do yourself a favor and opt for comfy, sturdy footwear. Sneakers, boots and comfy flats are all solid options. (Bonus pointed for studded, fringed, or equally bad-ass looking footwear with a rock-star vibe.)
Make rain plans
Unless there's a serious deluge (as was the case in 2015), Voodoo is a rain-or-shine event. Bring a poncho—they're a lot more crowd-friendly than umbrellas. In a pinch, you can rip arm and neck holes in a garbage bag and wear that. As far as footwear, you can't go wrong with galoshes or shrimp boots. Grassy meadows turn to mud when it rains, and you'll see at least one sad, solitary flip-flop surrendered to the muck.
Costumes
Voodoo takes place Halloween weekend (this year, it's Oct. 25-27, 2019), which means New Orleanians seize upon the event as an excuse to costume. Don't be afraid to get decked out. At least half of the crowd will be costumed, especially on Voodoo's final day.
If it's cold, try layering fleece tights under your costume, or add a coat that complements your look and has some pizzazz. (Colorful vintage versions, shaggy faux fur boleros or classic pea coats can all look great and enhance a costume, depending on what you're going for.). In the event of inclement weather, accessories like wigs and headpieces are your best friends. They look festive, and they keep your head warm and dry. Face paint, glitter, horns and wings are other fantastic accessories—but if you forgot to pack Halloween pieces, keep in mind that some vendors may sell them at the merch tables.
Hope that helps—and see you at Voodoo!
---
Related Articles