Book A French Quarter Hotel
Beignets Are Back!
By: French Quarter Staff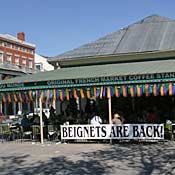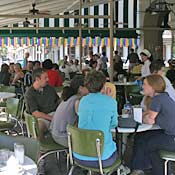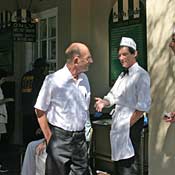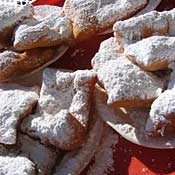 Top to bottom: Cafe du Monde signage "Beignets Are Back!"; Patrons enjoying CDM's first day back in business after Hurricane Katrina; CDM manager welcoming devoted patrons; Sweet New Orleans confections – beignets!
October 13, 2005 – Sweet white dust clouded the air over Jackson Square Wednesday morning and nobody in New Orleans was complaining. Powdered sugar coated beignets were back and steaming cups of cafe au lait flowed freely as the landmark Cafe Du Monde in the French Quarter reopened after a seven-week forced shut-down compliments of Hurricane Katrina.
The storm knocked out power and water to the French Market icon and scattered its employees all over the country. In the interim the Fernandez family, long time owners and managers of the ultimate New Orleans sidewalk meeting place took advantage of the hurricane holiday to steam clean the restaurant, replace old fryers and kitchen gear and shine the old coffee stand to a fare-thee-well. Normally Cafe Du Monde is open 24 hours a day closing only for Christmas Day and goes through a 2.5 ton mountain of flour every week.
It's de rigeur in New Orleans for revelers to close out a long night of partying and playing in the French Quarter with a bracing round of chicory laced coffee and several orders of the beignets. The square pillows of floury cake are deep-fried to order and don't even have a passing resemblance to the round glazed donuts known in the rest of the country. Some people say beignets are addictive.
All day Wednesday a cheerful and steady crowd of local beignet addicts, Quarterites, for-real visiting firemen, curious relief workers and even hardy tourists enjoyed the reawakening of a beloved institution.
Thankfully, as it has for a century and a half, Cafe Du Monde is back serving up a little bit of New Orleans heart and soul every day.
If you're dining in the French Quarter today or tonight, check out all of your options – here's the list of open restaurants and their Katrina hours of operation.
---
Related Articles