Book A French Quarter Hotel
A Dog-Friendly Guide to the New Orleans French Quarter and the Arts District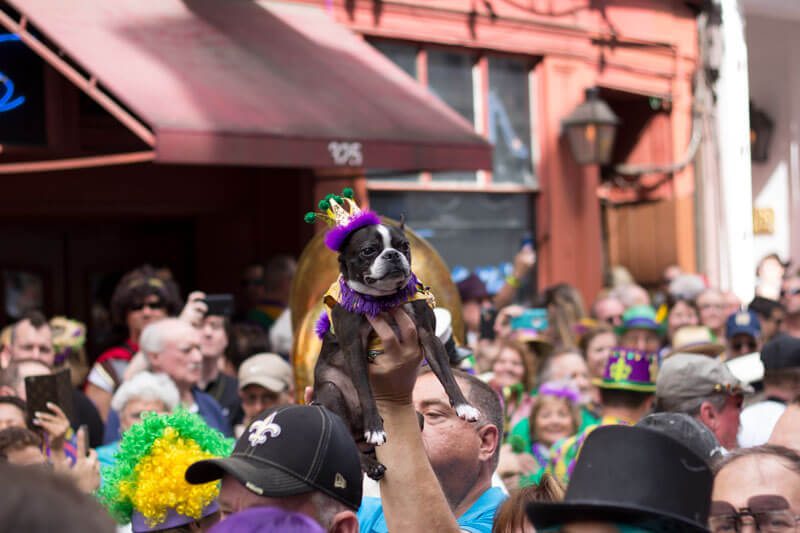 New Orleans is a city that loves dogs, so you don't have to leave your precious four-legged friend behind when you visit. There are a few hotels and bed-and-breakfasts that can accommodate your pet (most would ask for a pet deposit), and there are dog-friendly parks and runs throughout the city.
Many local eating and drinking establishments also welcome pets with open arms and a bowl of water — just please ask first to make sure it's OK to bring your pet inside. There's a dog-and-beer-centric fundraiser festival in New Orleans, typically held in Mark in Lafreniere Park in Metairie, and there's even a Mardi Gras parade for dogs (more on that later).
Here's a list of places in the French Quarter and the Arts District (and immediately nearby) that your pet can tag along to, to help you two share the best moments of your trip and create some memories.
Restaurants and Cafes – French Quarter
---
Cafe Amelie
900 Royal St.
The lovely Cafe Amelie is a great choice for gourmet sandwiches (cochon de lait is a specialty), gumbo, seasonal salads, and other locally sourced fare. It has one of the most beautiful courtyards in the French Quarter, which is saying a lot.
Cafe Beignet
311 Bourbon St., the Musical Legends Park
While we don't recommend taking your dog for a stroll on Bourbon Street after dark (it's just too chaotic and crowded), the Musical Legends Park has plenty of tables and space, where you and your dog should be comfortable. Enjoy live jazz, have an order or two of the famous French doughnut, and take some pics with the nearly-life-size bronze statues of New Orleans' own musical legends like Fats Domino, Louis Armstrong, Louis Prima, Allen Toussaint, and Irma Thomas.
Cafe Du Monde
800 Decatur St.
We doubt this iconic 24/7 establishment needs an introduction, but did you know you can experience this New Orleans rite of passage without leaving your dog at the hotel? Although dogs are not allowed in the covered seating area, there are tables where you can sit with your pup along the side, just outside the fence. While the crowds and the line can be a bit overwhelming, the chicory coffee and beignets are consistently excellent, the service is efficient, and you will find yourself surrounded by live music.
Cafe Envie & Espresso Bar
1241 Decatur St.
This airy coffeehouse has comfortable sidewalk seating with excellent people-watching opportunities. Popular with the locals, it features a full bar and a big breakfast menu, plus small plates and excellent coffee.
Croissant D'Or Patisserie
617 Ursulines St.
Tucked away between Royal and Chartres on Ursulines and steeped in old-world charm, this Parisian-style patisserie has some of the best baked goods in the city. Made daily and served fresh from the bakery, Croissant D'Or's croissants come plain, sweet and savory, stuffed with things like chocolate and ham and cheese. Everything you'll find displayed in the gleaming glass case is a must-try, from the Napoleon and tiramisu to the tarts and the tortes. Some of the delicious made-to-order sandwiches come with housemade Bechamel sauce. The owners welcome pets in their sunny courtyard.
---
Restaurants and Cafes – The Arts District
Carmo
527 Julia St.
The "tropical" enclave of Carmo, nestled among the galleries of Julia Street in the Warehouse District, features vegan beans and rice among its mainstays, along with the daily curry, seviche, poke, and a plethora of interesting salads (many dishes are vegan). If it's not too busy your pup will be welcome for sure.
Herbsaint
701 St. Charles Ave.
You're in for a treat in this Chef Donald Link's flagship restaurant, which serves some of the best Creole and Cajun food in the city. Herbsaint also has plentiful sidewalk seating sheltered by the balcony overhang, so you can fine-dine with your dog even in inclement weather. Just please make sure to request a table outdoors when you make a reservation.
---
Bars – French Quarter
Black Penny
700 N. Rampart St.
You'll find this bar at the edge of the Quarter, right across from Armstrong Park. The space is both weathered and welcoming, featuring a refurbished bar, exposed brick and beams, and long booths. Friendly service, good prices, several pages' worth of craft beer on the menu (most come in a can), and the all-inclusivity (that means dogs, too) make this dive a popular spot.
Cosimo's
1201 Burgundy St.
This neighborhood bar is beloved for its pet-welcoming policy (the place is often teeming with dogs, both inside and out), a lovely back room with the pool table and comfy seating, and seriously delicious bar snacks (Cosimo's boudin balls are the best, we promise). The bar also hosts live-music nights, and crawfish boils when the mudbugs are in season.
Erin Rose
811 Conti St.
This quintessential Irish pub welcomes dogs, so stop by for an excellent Irish coffee, Guinness on tap, and soul-warming po-boys (offered in the back of the bar by Killer Poboys).
Harry's Corner
900 Chartres St.
This no-frills dive with inexpensive drinks is an excellent spot to while the afternoon away if you're day-drinking. It also happens to be a haven for all kinds of well-behaved dogs.
The Jimani
141 Chartres St.
This late-night haunt (open till 4 a.m. every night) has been a popular sports bar since the early 70s. The bar menu is a medley of New Orleans fare like po-boys, and the all-American nachos, pizza and Chicago-style hot dogs. It's also supposedly one of the most haunted places in the Quarter. Dogs are welcome.
Three Legged Dog
400 Burgundy St.
The 24-hour dive is dog-friendly and has weekly crawfish boils when in season (sometimes as late as midnight) plus classic pub grub.
---
Bars – The Arts District
Lucy's Retired Surfer's Bar & Restaurant
701 Tchoupitoulas St.
The Warehouse District's surfer chain, Lucy's welcomes dogs, inside, outside, and on the patio. Just how welcoming is Lucy's? It has its own "sur-fur" dog menu that comes with a bowl of crushed-ice water. It's also a late-night haunt with great drinks and tacos, and is on the route of many Mardi Gras parades.
The Rusty Nail
1100 Constance St.
Another Warehouse District dog-friendly spot, The Rusty Nail has massive outdoor space that can accommodate your dog, plus a vast selection of scotch, live music, a popular happy hour, and trivia nights.
W.I.N.O.
610 Tchoupitoulas St.
This is a cutting-edge, self-service bar with over a hundred wines on tap (the name stands for the Wine Institute of New Orleans), where you can drink by bottle, glass, or choose a flight. Small plates like hummus and cheese plates complement the wine, and, yes, you can bring your dog.
---
Shops
Chi-wa-wa Ga-ga
511 Dumaine St.
Self-described as a "Small Store for Dinky Dogs" Chi-wa-wa Ga-ga targets small pets specifically. The focus is on clothing, accessories and costumes in particular, and there's a chance that the fanciest costumes the smaller pooches are strutting around in at the Barkus parade came from this store.
Southern Paws
633 Toulouse St.
This should be your pit stop if you're looking for the New Orleans-inspired toys and treats, and Mardi Gras costumes.
---
Parks and Activities
The Algiers Point-Canal Street Ferry
Board at the terminal at the foot of Canal St. by the Audubon Aquarium/Insectarium
The Mississippi River cruises don't allow dogs, but you can still enjoy some time on the river and take in the scenery by riding a no-frills Canal Street commuter ferry, which takes passengers across the Mississippi to Algiers Point. The ferry runs every 15 minutes and will set you back $2. Dogs don't need to be in a carrier, just on the leash.
Crescent Park
Mandeville St. Wharf
Part of the French Market District, Crescent Park is a 1.4-mile, 20-acre urban park that also features a dog run and bike paths. Just take the Moonwalk eastward till the end, then N. Peter St. until you cross into the Marigny, and take the staircase or the elevator to access the park. The dog run is at the opposite end of the entrance.
Jackson Square
701 Decatur St.
This timeless landmark is located in the heart of the French Quarter. Known since the 18th century as Place d'Armes, it was renamed in honor of Andrew Jackson following the 1815 Battle of New Orleans. Jackson's bronze statue is the focal point of the square, surrounded by lavish flora and facing the Mississippi River. Jackson Square is also a host to the open-air artist market and performance space, with local art displayed along the fence. You can have your sketch done, dance to a brass band, or have your fortune told. No dogs are allowed inside the gated area, but the outer part is all yours and your dog's.
Louis Armstrong Park
701 N. Rampart St.
Located just north of the French Quarter, this historic park is a quiet sanctuary when it's not hosting a festival. Walk the grassy slopes, feed the ducks, watch the birds and the turtles, and enjoy this welcoming green space with your dog.
The Riverfront
Along the Mississippi River in the French Quarter
The almost four-mile stretch along the Mississippi River features public art, scenic views of the boats, excellent people-watching, street performers, and the dog-friendly Woldenberg Park.
Walking Tours
Throughout the French Quarter
Many walking tours (history, ghost, culinary, music, etc.) that cover the French Quarter and the adjacent Marigny and Tremé would allow dogs to tag along, just ask for permission when you book.
---
Two Annual Events That Are All About Dogs
Krewe of Barkus
Starts and ends in Armstrong Park; rolls in the French Quarter (parade map)
New Orleans' only parade dedicated to dogs, this Mardi Gras walking parade features a massive procession of costume-clad dogs accompanied by their human friends. Parade throws include dog treats, themes change every year, and the king and queen are always canine.
NOLA on Tap
Lafreniere Park, Metairie
This is the largest fundraiser for the Louisiana SPCA and the largest beer fest in the area, with more than 400 beer offerings from local and national breweries and homebrewers. Dogs and kids are welcome.
---
Are you planning to spend some time in New Orleans soon? To stay close to all the action, book a historic boutique hotel in the French Quarter at FrenchQuarter.com/hotels today! We hope you and your dog enjoy your visit!
---
Related Articles