Book A French Quarter Hotel
Back to Her Roots: Spiritual Sustenance, Insight and Healing at Erzulie's
By: Tara McLellan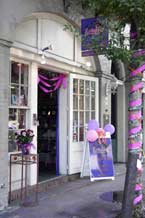 Top to bottom: The 'Root Queen' Anna Parmelee; Erzulie's Authentic Voodoo shop in the French Quarter
Anna Parmelee may have been known for many titles throughout her life – broadcast media professional, advertising executive, licensed airplane pilot – but her favorite title might just be the one she is known best by here in New Orleans: "Root Queen." It is a title that at once embraces her past, present and future and marks the spirit behind her French Quarter shop, Erzulie's Authentic Voodoo.
Born in Rhode Island and raised primarily by her grandparents, Anna soon found herself becoming intrigued with all things spiritual from a very close source, her grandmother. A devout Catholic, Anna's Portugese grandmother raised her within the church, but also exposed her to healing traditions from her Old World upbringing. "Although my grandmother is a very devout Catholic, she is also very mystical and highly skilled in herbology due to her long family lineage of medicinal healing in Madeira, Portugal," says Anna. "This was my initial basis for connecting to ancient paths and spiritual traditions."
But before Anna's professional life took a decidedly spiritual turn, she started out on a path that was very different. From working in broadcast media and creating a highly productive advertising agency in Orlando, Florida, Anna was able to grow into an extraordinarily successful business woman, with a passion for travel and spiritual learning. "Ancient philosophy, wisdom, techniques, belief systems and cultures have always fascinated me," says Anna. While traveling for work, she began to explore spiritual traditions worldwide, from North and South America, to the Caribbean, Santo Domingo, Haiti, Puerto Rico, and Europe.



Ancient African divination techniques, New Orleans Voodoo Tarot
The seeds of the Root Queen's new career path were beginning to take shape. "I was asked by several friends to help with certain situations with specialty oils, herbs, formulary, ritual work, and, most importantly, listening to their problems and offering some thoughts or philosophies if possible." Anna's talent in guiding her friends slowly grew into a desire to help others, and from that passion Erzulie's was born, along with a move to an all-new, exciting city. "As with all paths, when you are on the correct one, everything aligns seamlessly," she says. "I purchased a lovely home in the French Quarter and leased a store all in one month."
Erzulie's is in fact a truly magical store, reflecting the brilliant personality of Anna and her staff. A bright and colorful space, it is filled to the brim with handmade soaps, oils, candles and more. "We carry only the finest handcrafted items," says Anna. "In fact, we make every item in the store ourselves with pure, organic materials and precious oils." Anna's oils and soaps are more than just wash-and-go spirituality. "We developed our products for people who live busy lives and may not have the time to always take a break. Our products simply allow people the chance to slow down, relax, and focus on and eliminate the negatives in their lives." The people that visit Erzulie's come from all over and not all are specifically looking to make a change. "We encourage customers to just come in and look around. Have fun. We encourage people to touch things and explore. Sometimes, that's all it takes to get people thinking," says Anna. But for some the experience can also be enlightening, and that is the true reward for Anna. "I love what I do. I love seeing people refreshed and growing."
For Anna, New Orleans was the best place to reach people of all kinds – locals, visitors, explorers and travelers alike. "The French Quarter seemed like the best place for a shop like this, as it is one of those places that embraces all kinds to the community. People who come to New Orleans are looking for something a little different, and they can come in here and experience something they might not get a chance to see every day," she says. For her, living and working in New Orleans is as ever changing as her career. "This is an amazing city. You are never bored and there's always someone there to support you. This city appreciates the unique."
This Root Queen, a title Anna selected in part as tribute to her "root worker" ancestors, may have put her own roots down here, but those are some pretty far-reaching roots. Stretching out from her grandparents in the Northeast, her family history in Europe, her travels near and far, and the spiritual traditions and people she has met along the way, Anna's roots have made her yearn to share her experiences and passion with others. Erzulie's is the place where those roots come together for a unique experience, a little practical advice, and lots of open minds.
Erzulie's Authentic Voodoo French Quarter Shop
809 Royal St.
504-525-2055
Tara McLellan, a freelance writer, book author, and columnist, has been featured in Metropolitan Home Magazine, New Orleans Magazine, New Orleans Homes and Lifestyles, and St. Charles Avenue Magazine. She lives and works in the New Orleans area.
---
Related Articles