Book A French Quarter Hotel
Fun New Orleans Sightseeing with the Hop-On Hop-Off Bus Tour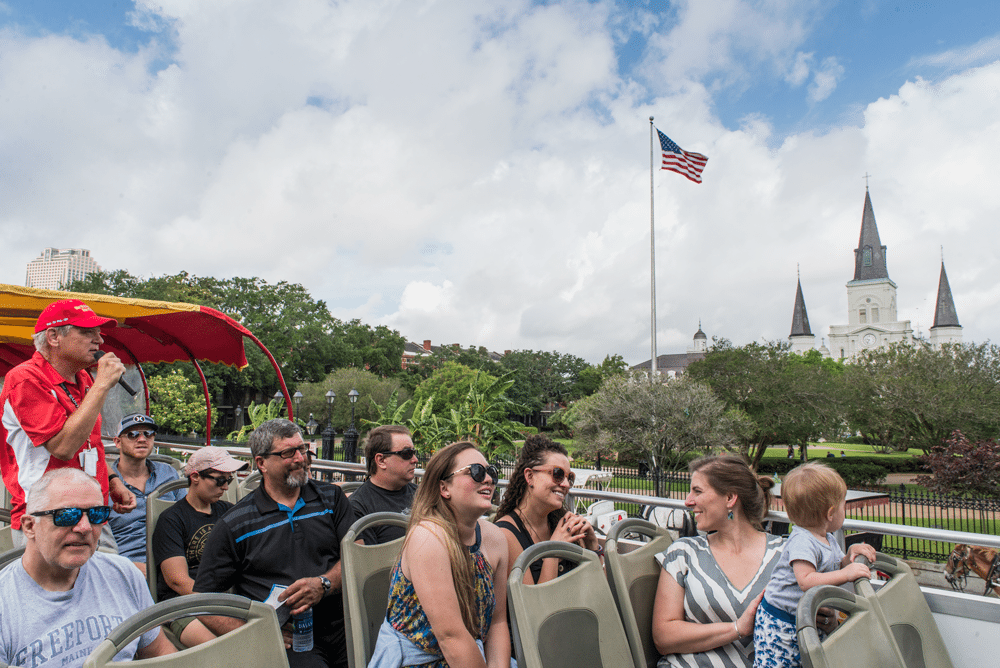 With a city as robust and cultured as New Orleans, you can imagine the overwhelming number of attractions, restaurants, shops and much more. We found ourselves asking – What neighborhoods are must-sees? Which museums are worth the price of admission? How will we get there? What do the locals do for fun? I am certain even locals who've lived here for decades haven't seen every concert, shopped at every boutique, enjoyed each delicious restaurant or even attended every festival. So, where to begin?
We decided to start with a broad overview of the city—which is just what the Hop-On Hop-Off City Tour offers! Chances are, you've noticed the BIG RED, double-decker buses rolling around New Orleans (they're hard to miss). But, what you may not know is why they're an excellent way to start exploring the magic of New Orleans.  Hop-On Hop-Off gave us a great big southern welcome to the Big Easy!
What is the Hop-On Hop-Off City Tour?
Simply put, the tour consists of an Open-Top fun bus navigated by a SAINTED driver and hosted by a TALENTED tour guide, who describes the sites and history you encounter along the way. You'll learn more than you ever imagined, from the iron-laced historic buildings to the above-ground cemeteries. We discovered New Orleans' Jazz, its unique cuisine, antique street cars, Mardi Gras traditions and the romance pulsating throughout the soul of the city. Few cities can boast so rich a heritage!
But here's the real beauty of the Hop-On Hop-Off City Tour: you will see landmarks and local hangouts you would have otherwise overlooked. With a local tour guide showing you the ropes, you can't miss a thing! We left the city with such a wealth of knowledge and a true overview of New Orleans!
The bus makes a total of 18 stops along its 2-hour loop, and you can start your tour wherever most convenient – Jackson Square, the Garden District, or even at the Basin St. Station Visitor Center. You'll cruise down Canal Street and through the Central Business District; then head straight up Magazine Street into the Garden District. This is where we decided to Hop-Off. The streets were filled with locals, and spicy aromas – on every corner, there was another unique boutique or shop, not your run-of-the-mill selections. After our fill… Food, Shopping and Local Beer… we hopped back on the bus and continued down the historic St. Charles Avenue. This is where you discover a true sense of New Orleans Mardi Gras. We learned about the strong French and Catholic roots. But, even better, saw what they call "BEAD trees" first hand! Next stop: the heart of the French Quarter. You'll travel around the Marigny then pass by Tremé and Louis Armstrong Park. All the while, your Top-Deck Tour Guide portrays the culture and describes the city's unique characters with you!
How does ticketing work?
It's very simple – you can Hop-On at any stop and buy a ticket!  A one-day ticket of unlimited rides is $39, but the best value is found in the three-day ticket. For $10 additional dollars, ride the bus for 2 more days and take advantage of the two free guided walking tours:  French Quarter and Garden District. Another great bonus, we were able to get our bearings, ride the two-hour loop, and then really plan where we wanted to get off the next day to discover the unique treasures of New Orleans.
With your Hop-On Hop-Off ticket, you also have tremendous savings on other attractions. All along the route there are city deal offers. Our absolute favorite was the St. Louis #1 Cemetery Tour! You save $5 dollars and get to walk through the tombs of Voodoo Priestess Marie Laveau and even get to see the future home of Nicolas Cage (a gleaming, nine-foot pyramid).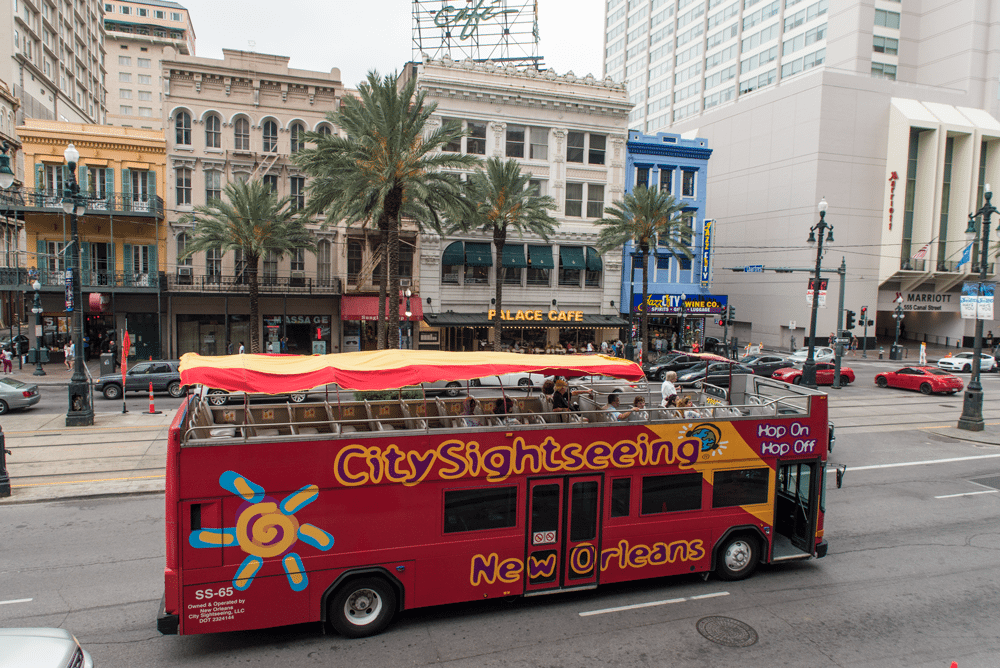 Much more than just a bus
The Hop-On Hop-Off Tour is an unbelievable bargain – both City Tour and Transportation.  Every stop on the tour, from Jackson Square to Mardi Gras World, is a world-class destination. You aren't just getting shuffled around from point A to point B: you're getting a curated experience.
When we considered the cost of other tours, or added up the price of Ubers and taxis for three days, we felt like we saved a ton.
Plus, riding in the open-air bus is fun! There's nothing like sitting on the breezy top deck, beneath a red-and-yellow awning, at the height of a Mardi Gras float, and passing under the oaks on St. Charles Avenue, inches away from the leftover beads glittering in their branches. If you need a break from New Orleans' humid, subtropical climate, just go downstairs and soak up the air conditioning on the bus's lower level.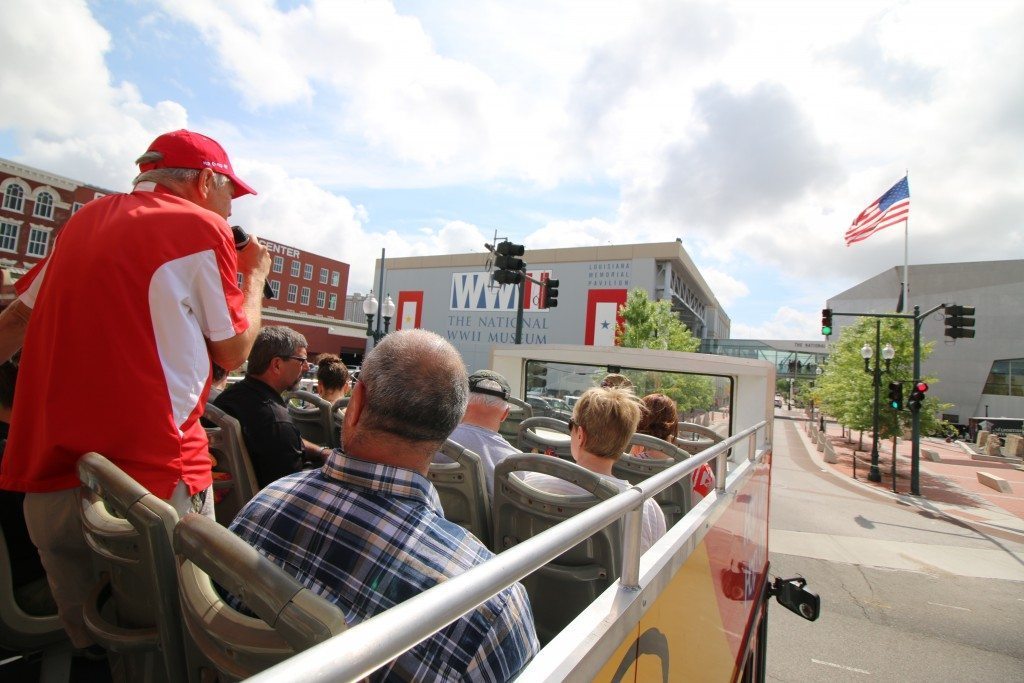 What can I expect from the tour?
We wouldn't want to give everything away (and there's hardly enough room to share all the information here), but below are a few highlights from our favorite stops!
Stop 1: Jackson Square
Grab a beignet and café au lait from Café du Monde, which sits at the start of this large open-air market. Relax and take in the views of the river and the Iconic Cathedral. This is perfect photo opportunity!
Stop 2: French Market
Hop-Off here and join the French Quarter walking tour. Be sure to check out the French Market; it is the oldest of its kind in the U.S. and, originally was founded as an American trading post. Today, you can shop with local artists, jewelry makers, and grab a bite to eat along the way.
Stop 4: Treme
Willie Mae's Scotch House, Dooky Chase and Ernie K-Doe's lounge are just a few must-sees in this historic neighborhood, which is named for real estate developer Claude Treme. Be sure to double check business hours, as many are rather erratic.
Stop 5: Basin St. Station Visitor Center
At this former site of the historic Southern Railway/New Orleans Terminal Company, you'll find restrooms, a gift shop, cold drinks and souvenirs for sale, an educational exhibit and 7-minute film. Also, an easy and affordable parking option sits right next door for those in need. This is also where you would hop-off to join the St. Louis #1 Cemetery walking tour.
Stop 7: Riverfront Harrah's Casino
Enjoy a signature drink and take advantage of the $5 FREE slot play. Fulton Street is also packed with lots of great places to check out, from Fulton Alley to do a little bowling to having a beer at Manning's.
Stop 10: The National World War II Museum
This museum opened in 2000 and honors Andrew Higgins, who owned Higgins boatyards here in New Orleans. President Eisenhower called these "the boats that won the war." The Museum features immersive exhibits, multimedia experiences, and an expansive collection of artifacts and first-person oral histories to take visitors inside the story of the war.
Stop 11-12-13: Magazine Street
Welcome to miles of fantastic shopping, restaurants, bars, and boutiques! There are 3 stops along this mile-long stretch of Magazine Street (at Jackson, at Washington, and at Louisiana) – convenient for Hopping-Off, Strolling along, and Hopping-On down the block! Don't miss the Garden District Walking Tour that leaves from Stop 12.
Stop 14 & 15: St. Charles Avenue
You'll find a piece of the original Eiffel Tower on this street. It was disassembled into 11,000 pieces and rebuilt on St. Charles Avenue, where it now serves as a club and events venue.
Stop 16: Mardi Gras World
These warehouses contain floats and décor made by Blaine Kern for 48 prominent Mardi Gras krewes. It's most definitely worth a tour and Hop-On Hop-Off ticket holders are afforded a discounted admission!
We made our way around the city, hopping-on and off at our leisure. This city tour was flexible, at our own pace, convenient and overall, a lot of FUN.  We left New Orleans feeling like a local! The Hop-On Hop-Off is an absolute must-do.
---
Related Articles