Book A French Quarter Hotel
New Orleans' Haunted History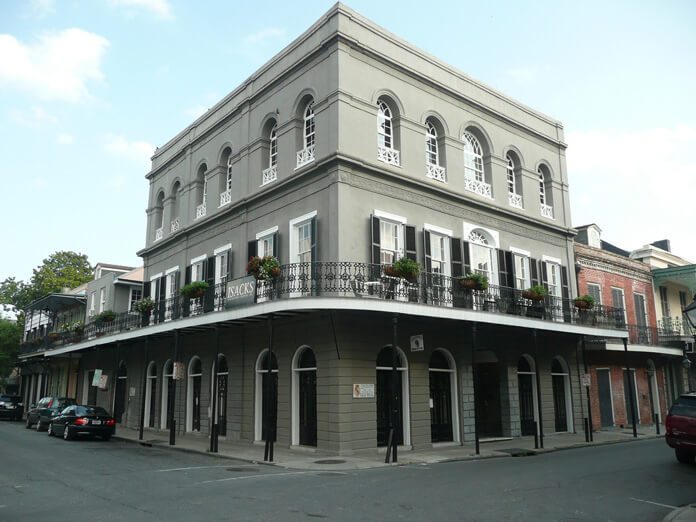 The LaLaurie Mansion, photo by Tom Bastin
For the rest of the country, things that go bump in the night move to the forefront of the imagination for one month out of the year. But in New Orleans, often called the most haunted city in America, every day might as well be Halloween.
Stroll through New Orleans on any given night, and you're likely to encounter these things: an above-ground graveyard. A cobwebbed 18th-century mansion. A tour guide telling stories about the city's haunted history. Here are just a couple of true tales from New Orleans' haunted past.
Yellow Fever Epidemic in New Orleans, 1817-1905
Perhaps the most gruesome tableaus ever to unfold in New Orleans took place during yellow fever epidemics, which peaked in 1853 (7,849 deaths), 1858 (4,845 deaths), and 1878 (4,046 deaths), according to the New Orleans Public Library. All in all, 41, 000 souls would lose their lives to yellow fever in the 19th and early 20th century.
The mosquito-borne virus, a member of the Flaviviridae family, ravaged the populations of immigrants new to the city in particular. Individuals became infected when bitten by a mosquito carrying the virus, so it was easy for multiple members of a household to succumb to the disease. Headaches, muscle soreness, fever, and jaundice (hence the name yellow fever) were followed by liver and kidney failure, hemorrhaging, seizures, coma, and death.
Yellow fever cases peaked during warmer months, when mosquitos are most active, and for years, families who had the means to flee during the summers did so. During the worst epidemics, one out of every 10 people who stayed behind would die.
In 1853, more than a thousand people died each week. Obviously, civil services were not equipped to deal with mass deaths of that magnitude, but they did what they could. Each day, corpse wagons circled the neighborhoods, drivers calling "Bring out your dead." Mass graves lined the city's perimeter.
Fortunately, early 20th-century scientists figured out that if they controlled mosquito populations by limiting their breeding grounds, they could control the spread of disease. New Orleanians joined forces to close their cistern, drain stagnant pools and create underground sewage systems. After 1905, yellow fever never again ravaged the Crescent City… but it still exists in other parts of the world.
The LaLaurie Mansion (1114 Royal Street)
The LaLaurie house is well-known both within and beyond New Orleans' city limits. Kathy Bates portrayed Delphine LaLaurie in an episode of American Horror Story, and haunted house attractions frequently include homages to the grisly tale.
LaLaurie enslaved African American people, and she was a notoriously cruel mistress. After a 12-year-old girl fled LaLaurie's bullwhip in terror, falling off the roof and dying from her injuries, the authorities were brought in to investigate.
Because cruel treatment to slaves was prohibited by law, LaLaurie's slaves were taken away from the house and sold at auction. Unfortunately, one of LaLaurie's friends bought them and gave them back to her. Whether LaLaurie's famous temper lead her to act out in vengeance toward the slaves, or whether she was simply insane, no one knows, but the worst was yet to come.
Visitors to the LaLaurie house became fewer and fewer, as rumors of her cruelty spread and damaged her reputation. In 1834, a cook intentionally set the house on fire, hoping that it would bring civic intervention (at best) or the relief of death (at worst). Behind a locked door on the third floor, firemen discovered a scene described thusly by The New Orleans Bee on April 11, 1834:
"Seven slaves, more or less horribly mutilated, were seen suspended by the neck, with their limbs apparently stretched and torn from one extremity to the other. These slaves had been confined by the woman LaLaurie for several months in the situation from which they had thus providentially been rescued, and had been merely kept in existence to prolong their suffering."
Subsequent retellings of the story included even more perverse and graphic forms of torture, but the Bee account is the most reliable version. LaLaurie managed to escape, and an angry mob destroyed her home's interior, smashing furniture and ripping out doors and railings before order was restored.
The gutted house sat sealed for years and eventually returned to the market. It was purchased by actor Nicolas Cage in 2007 and sold in 2008. Word on the street is that he never dared to spend a night there.
Are you planning to spend some time in New Orleans soon? To stay close to all the action, book a historic boutique hotel in the French Quarter at FrenchQuarter.com/hotels today!
---
Related Articles