Book A French Quarter Hotel
"Throw Me Something, Monsta!": Krewe of Boo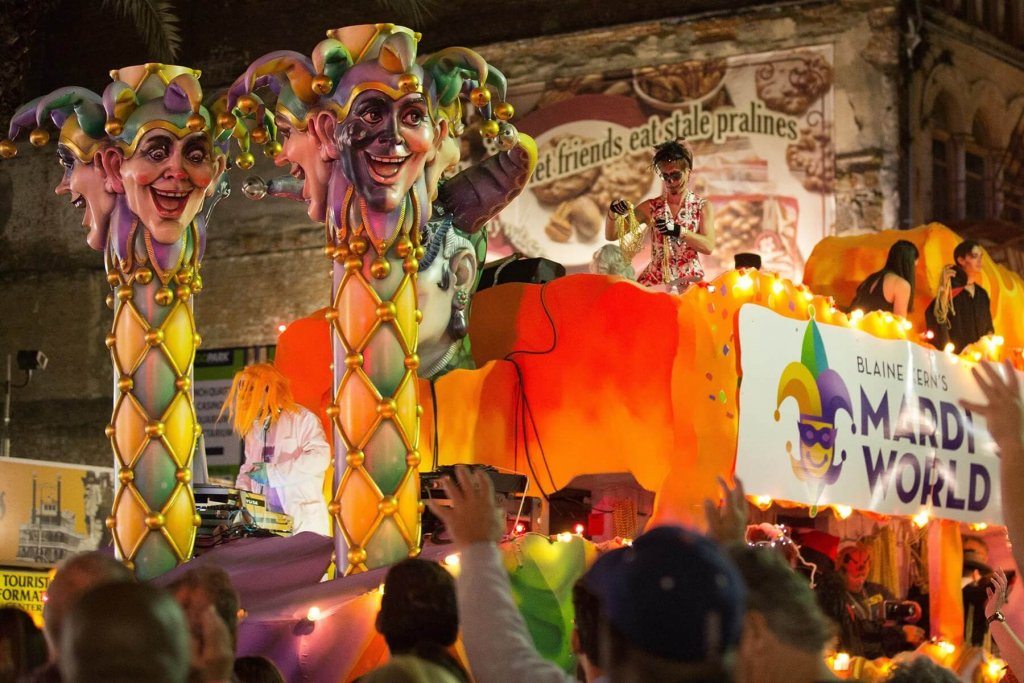 Photo courtesy of Krewe of Boo on Facebook
Krewe of Boo kicks off the holiday and parade season on Saturday, October 21, 2023, with its annual Halloween parade. This lively affair has become the "official Halloween Parade" in New Orleans in 2007 and has been going strong since, only growing in popularity.
Krewe of Boo is brought to you by Kern Studios. In 2017, it honored Blaine Kern's 90th birthday, and the late "Mr. Mardi Gras" himself rode as the King.
With Krewe of Boo, expect the usual 3-D fiberglass and papier-mache extravaganza with all of your favorite spooky characters. This popular parade draws both locals and visitors but is not so crowded that you won't be able to get close at any point on its route. The parade-goers had been known to don their favorite, family-friendly Halloween gear as well, and you're encouraged to do the same.
Krewe of Boo is very child-friendly, we can't stress that enough. Everyone is welcome to join the spooky festivities, which makes this parade one of the best and most family-friendly ways to celebrate Halloween in one of the most haunted cities in America. You'll see werewolves, ghosts, vampires, and other Halloween-themed monsters, but all the monsters on the floats are PG-13 and not too scary even for the youngest parade-goers.
There'll be plenty of plush toy throws for the little ones too. In an ongoing effort to minimize waste, Krewe of Boo has been instead handing out eco-friendly cups and food items made by local companies that are sponsoring the event.
Look out for Aunt Sally's pralinettes, Chee Wees from Elmer's Fine Foods, and little coffee packs from PJ's Coffee. You can catch other collectibles and consumables like candy, light-up medallion beads, and doubloons. Past years' throws also included Krewe of Boo! limited-edition t-shirts.
Once again, the pre-parade fun starts early in the morning and lasts all day. First up is the New Orleans Zombie Run. This two-mile race starts at 9 a.m. and ends at noon, both at Lucy's Retired Surfers Bar & Restaurant (701 Tchoupitoulas St.) in the Warehouse District.
Participants are encouraged to come dressed as zombies and monsters. Registration for the race begins at 7:30 a.m. You can pre-register online, and tickets are $25 ($35-$40 the day of the race).
The parade will begin at 6:30 p.m. on Decatur St. and Elysian Fields Ave. in the Marigny, rolling through the French Quarter. It will first go down Elysian Fields to N. Peters St., then to Decatur, passing by Jackson Square. Then the parade will go down Canal, up to Burgundy St., making a U-turn and eventually reaching Tchoupitoulas St.
You can watch the parade at one of the official viewing parties on the balcony of Crescent City Brewhouse (527 Decatur St.) in the French Quarter, or at The Sheraton (500 Canal St.), but you might want to get your tickets soon as they will most likely sell out (includes open bar and balcony access).
The parade ends at Generations Hall (311 Andrew Higgins Dr.) in the Warehouse District. for the Monster Mash party. This ticketed costume party starts at 8 p.m. (until).; ages 18 and up to enter.
Monster Mash features live music, a costume contest, drink specials, and a big dance party. You can buy tickets online or at the door.
On Friday, October 20, 2023, there's also an annual Royal Luncheon at the House of Blues (225 Decatur St.) at noon, immediately followed at 3 p.m. by a second line to Pat O'Brien's (718 St. Peter St.) Tickets are $75.
For more information and updates please visit the Krewe of Boo website, Facebook page, or on Twitter @KreweofBoo.
Need somewhere to stay while you enjoy all the fall fun New Orleans has to offer, including the always-fabulous Halloween celebrations? Book a stay at a historic French Quarter boutique hotel at FrenchQuarter.com/hotels.
---
Related Articles