Book A French Quarter Hotel
What to Do in July in New Orleans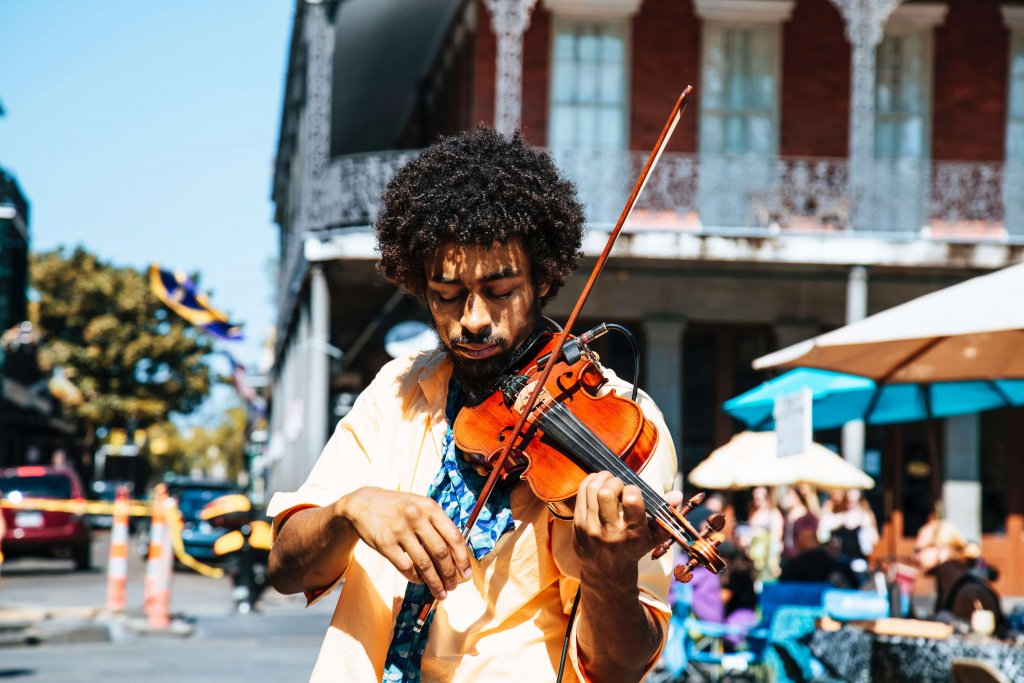 Photo by William Recinos on Unsplash
Summer in New Orleans is HOT, but we've got a slate of festivals that will cool you off and keep you entertained.
Independence Day
July 4, 2023
New Orleans celebrates July 4th like anywhere else in America but with a flavor all her own. There will be fireworks above the Mississippi River and much partying as usual. As part of the annual "Go 4th on the River" celebration the "Dueling Barges" will again put on a spectacular fireworks show set to patriotic music.
There are plenty of great spots to watch the display, but a French Quarter balcony is one of the most desired viewing spots in the city. You can grab excellent vantage points on the Riverfront, and in the Marigny and Bywater too. The Woldenberg Park on the shoreline of the Mississippi River is also an excellent spot to throw a picnic while you wait for the fireworks, as well as another waterfront park, Crescent Park. Coolers and chairs are welcome.
June 29 – July 3, 2023
There's a lot to love about ESSENCE Festival, beyond the fact that it is the largest annual African American culture and music event in the world. It's one of the finest gatherings of musicians in a city that is well-known for throwing together excellent gatherings of musicians.
Beyond the concerts held each night of the fest at the Superdome, its free daytime experiences at the Convention Center include motivational seminars, beauty and style presentations, celebrity interviews, cooking demonstrations with top chefs, and lots more.
Expect a stellar music lineup of major headliners and the best of the local talent, including Lauren Hill, Megan Thee Stallion, Jermaine Dupri, and many more. This year, the spotlight is on hip-hop to honor its 50th anniversary.
The traditional Sunday Gospel Celebration at the Convention Center will feature the greatest gospel hits, and ESSENCE After Dark, a series of late-night jam sessions, comedy shows, underground performances, live podcast recordings, and more, is returning once again to the Superdome.
Don't wait! Get your tickets online. And please remember that all events held at the Convention Center during the day are free and open to all (registration is required though for anyone over 18).
July 14-16, 2023
Plenty of people know that Encierro de Pamplona is a major event in the Spanish tourism calendar, but not as many folks realize New Orleans hosts its own bull run. Except here, the "bulls" are roller derby girls, dressed in the traditional colors of Spain's bull run and wearing horned helmets, who whack the participants — dressed all in white with red scarves and handkerchiefs — with wiffle bats.
The run takes place in the CBD starting at the Sugar Mill on Saturday, July 15, 2023. Check out the schedule on the event's website for the annual opening and closing parties happening that weekend.
July 23-28, 2023
Some of the world's most famous cocktails were invented in this city: the Sazerac, Brandy Milk Punch, and Ramos Gin Fizz, to name a few. Having a drink in New Orleans isn't just fun — it's also a celebration of our unique history.
Still, New Orleans can't just let a cultural touchstone lay without holding a festival, and thus: Tales of the Cocktail, a celebration of mixed drinks in all of their vast diversity. Every year, the party draws in thousands of bar owners, distillers, mixologists, authors, tastemakers, and enthusiasts who are interested in networking, sharing knowledge, showing off their skills, learning, and, well, drinking.
This six-day event is filled with seminars, workshops,  tastings, book signings, bartender contests, networking, and much more. The Tales' signature annual blowout, the "best of" Spirited Awards, will be held on Thursday, July 27, 2023, followed by the always-popular after-party.
During the festival Tales of the Cocktail hosts dozens of events. Please note that tickets for events are sold individually, so you can build your own itinerary. The prix fixe tasting menus and food-pairing dinners are especially popular, and the tours and cocktail-themed parties also tend to sell out quickly, so we highly recommend getting your tickets as early as you can.
If you're planning to visit New Orleans this July, be sure to check out our resource for French Quarter Hotels.
---
Related Articles