Book A French Quarter Hotel
The Real Thing: Jazz Shows in the French Quarter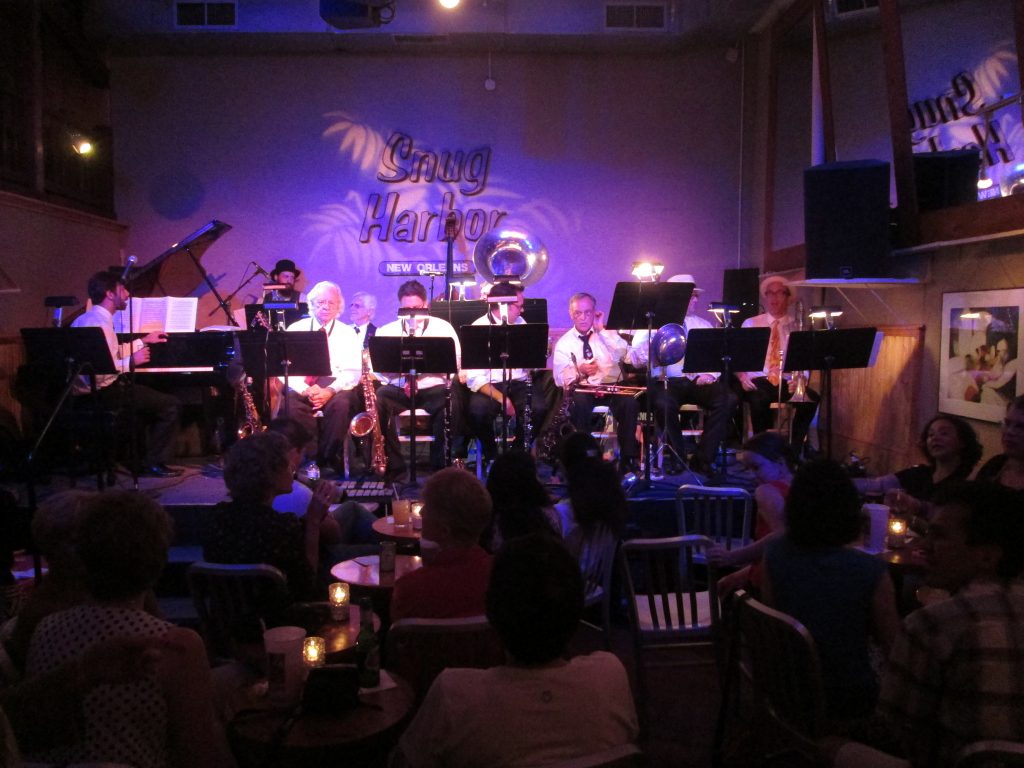 NOLA Snug Tomcats 2 by Infrogmation of New Orleans
Jazz lives in New Orleans, and it comes out to play in the French Quarter.
Every night in the Quarter, old masters and young lions take to the stage to continue the city's rich jazz traditions and guide the music's future. Below, we visit some of the top establishments in and near the French Quarter where guests can get close to this living heritage. Some are generations-old stalwarts, while others are so new they've barely had their paint scratched.
The name of Fritzel's European Jazz Club (733 Bourbon St., 504-561-0432) may sound continental, but the music scene at this intimate Bourbon Street club is all New Orleans. Traditional jazz is presented nightly by local musicians as well as by bands visiting from Europe. A few short steps in from the bustle of Bourbon Street, and guests are sitting practically knee-to-knee with gracious Dixieland performers.
Closer to the river, the Palm Court Jazz Café (1204 Decatur St., 504-525-0200) is a classy showcase for traditional jazz, featuring many of the city's masters as well as members of the next few generations carrying the torch. The wall of windows, tiled floor and bentwood chairs all set the scene for this classic music hall, located just a block up from the French Market and the riverfront itself. An extensive menu of Creole food from their capable kitchen provides the makings for a full night.
The fabled Preservation Hall (726 St. Peters St., 504-522-2841) isn't so much a music club as it is a living museum to traditional New Orleans jazz with only one exhibit: the band. Don't look for a bar, reclining seats or even air conditioning in this evocative and character-soaked performance space. The building itself dates back to the 1750s, and it has alternately served as a home, a tavern, an art gallery and an informal rehearsal space. The present owner's parents, Allan and Sandra Jaffe, purchased the building in 1961 and opened it as a venue dedicated to keeping local jazz traditions alive. Judging by the lines of eager guests for the nightly shows, that's one mission accomplished.
Located on rollicking Frenchmen Street just outside the Quarter, Snug Harbor Jazz Club (626 Frenchmen St., 504-949-0696) has for years retained the title of New Orleans' premier venue for contemporary and traditional jazz. Audiences enjoy a refined and upscale setting, seated at small, candle-lit tables, to savor the music of top local and touring performers. Celebrity sightings are frequent and the bistro just outside the performance space offers many Creole favorites.
Across the street, the Spotted Cat (623 Frenchmen St., 504-943-3887) is a relative newcomer to the music scene, but this cozy and intimate former storefront has quickly established its niche as a venue for up-and-coming local performers. A stage built right into a bay window and free admission encourage many curious guests to wander inside for an earful or even to take a spin around the matchbook-sized dance floor. The come-as-you-are vibe and nostalgic bands perfectly recapture the sounds and mood of a bygone era. Another, less sweaty (but still fun) branch of the Cat has opened at the Healing Center, deeper in the Marigny, on St Claude Avenue.
Also on St Claude, Sweet Lorraine's (1931 St Claude Ave; 504-945-9654) has a modern interior that's frankly a bit of a jolt after hanging out in tiny, ramshackle gig spots. This is a popular hangout for members of Social Aid & Pleasure Clubs (local African American civic societies), and is well known as the kick off spot for the Black Men of Labor Second Line. Call ahead to check for showtimes, and order some food – the kitchen here works some fine magic.
The Treme can rightly be considered the birthplace of jazz, and as such, many jazz fanatics consider a show here a major New Orleans bucket list item. The  Candlelight Lounge (925 N Robertson St) has started welcoming tourists on a larger scale, and the clientele divide – between locals and visitors – sometimes feels pronounced. But the music that kicks off here is undeniably enjoyable.
It's a bit impossible to miss Kermit's Treme Mother in Law Lounge (1000 N Claiborne Ave; 504-814-1819) the synthesis of the vision of two iconoclastic New Orleans musicians. The original Mother in Law Lounge was founded by Ernie K-Doe, who penned the eponymous R&B hit and also proclaimed himself Ruler of the Universe (why? Because New Orleans). Local trumpet virtuoso Kermit Ruffins has since taken over this brightly painted bar, which beckons visitors with its giant murals and excellent live shows.
---
Related Articles