The Real Thing: Jazz Showcases
By: Ian McNulty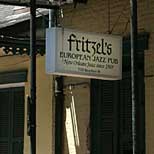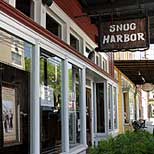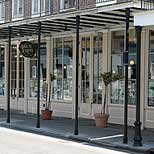 Top to bottom: Fritzel's Jazz Pub, Snug Harbor, and Palm Court Jazz Café.
Jazz lives in New Orleans, and it comes out to play in the French Quarter.
Every night in the Quarter, old masters and young lions take to the stage to continue the city's rich jazz traditions and guide the music's future. Below, we visit some of the top establishments in and near the French Quarter where guests can get close to this living heritage. Some are generations-old stalwarts, while others are so new they've barely had their paint scratched.
The heavenly glow from the illuminated gates of Louis Armstrong Park across the street lights the way to Donna's Bar and Grill (800 N. Rampart St., 504-596-6914), an appropriately casual, down-home joint that hosts some of the city's best-loved musicians on its small stage. The brass bands that propel the famous jazz funerals and second line parades bring their show indoors here for pulse-pounding performances, while elegant singers and accomplished pianists headline other nights. Monday night's jam session with an always-surprising mix of random musical guests is not to be missed.
A block down the street, at the edge of the Quarter, the Funky Butt (714 N. Rampart St., 504-558-0872) draws its memorable name from the title of a song that early jazz pioneer Buddy Bolden often played as a finale for his sets. The club's casually elegant interior of art deco glass and seductive colors creates a distinctly romantic setting for top-flight local jazz, along with other genres.
The name of Fritzel's European Jazz Club (733 Bourbon St., 504-561-0432) may sound continental, but the music scene at this intimate Bourbon Street club is all New Orleans. Traditional jazz is presented nightly by local musicians as well as by bands visiting from Europe. A few short steps in from the bustle of Bourbon Street, and guests are sitting practically knee-to-knee with gracious Dixieland performers.
Closer to the river, the Palm Court Jazz Café (1204 Decatur St., 504-525-0200) is a classy showcase for traditional jazz, featuring many of the city's masters as well as members of the next few generations carrying the torch. The wall of windows, tiled floor and bentwood chairs all set the scene for this classic music hall, located just a block up from the French Market and the riverfront itself. An extensive menu of Creole food from their capable kitchen provides the makings for a full night.
The fabled Preservation Hall (726 St. Peters St., 504-522-2841) isn't so much a music club as it is a living museum to traditional New Orleans jazz with only one exhibit: the band. Don't look for a bar, reclining seats or even air conditioning in this evocative and character-soaked performance space. The building itself dates back to the 1750s, and it has alternately served as a home, a tavern, an art gallery and an informal rehearsal space. The present owner's parents, Allan and Sandra Jaffe, purchased the building in 1961 and opened it as a venue dedicated to keeping local jazz traditions alive. Judging by the lines of eager guests for the nightly shows, that's one mission accomplished.
Located on rollicking Frenchmen Street just outside the Quarter, Snug Harbor Jazz Club (626 Frenchmen St., 504-949-0696) has for years retained the title of New Orleans' premier venue for contemporary and traditional jazz. Audiences enjoy a refined and upscale setting, seated at small, candle-lit tables, to savor the music of top local and touring performers. Celebrity sightings are frequent and the bistro just outside the performance space offers many Creole favorites.
Across the street, the Spotted Cat (623 Frenchmen St., 504-943-3887) is a relative newcomer to the music scene, but this cozy and intimate former storefront has quickly established its niche as a venue for up-and-coming local performers. A stage built right into a bay window and free admission encourage many curious guests to wander inside for an earful or even to take a spin around the matchbook-sized dance floor. The come-as-you-are vibe and nostalgic bands perfectly recapture the sounds and mood of a bygone era.