Book A French Quarter Hotel
Things to Do in New Orleans in January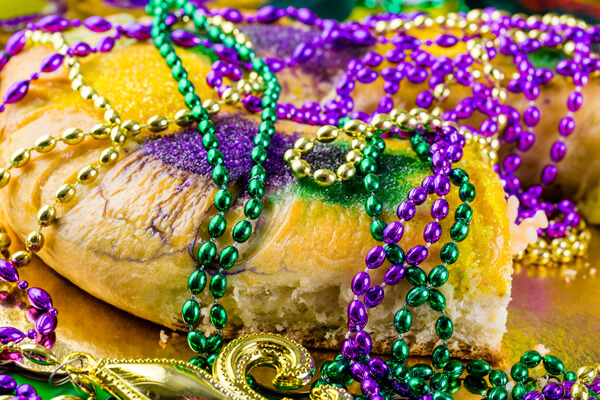 When the rest of the country is settling in after ringing in the new year, New Orleans is just getting started. Twelfth Night (January 6 every year) kicks off the Carnival season with three parades, paving the way for a multitude of festivals and other events stretching well into the spring.
Also, January is one of the coolest months in New Orleans, with the temperatures pleasantly hovering around the low to mid-60s. All you need is a light jacket and your stamina.
Here are the highlights of what's happening in New Orleans this January.
When: Monday, January 1, 2024
Where: Caesars Superdome
What: The popular college football tradition continues for over eight decades. The Fan Jam tailgate party is held at the Champions Square at the Superdome. The annual Sugar Bowl Parade rolls through the French Quarter the day before the game.
Twelfth Night
When: January 6; times of parades vary
Where: French Quarter, Uptown
What: The first day of the carnival season, known as Twelfth Night, or the Epiphany, kicks off with three annual parades. Phunny Phorty Phellows rides the streetcar from Uptown to Canal Street and back starting at 7 p.m. The beloved walking Krewe of Joan of Arc parade rolls at 7 p.m. from JAX Brewery in the French Quarter, and the Société Des Champs Elysée parade takes place starting at 7:30 p.m. on N. Rampart Street and Esplanade, going to the CBD. Like in previous years, it follows the N. Rampart/St. Claude streetcar route.
When: January 8 every year, time TBA
Where: The Monument at Chalmette Battlefield (8606 West St. Bernard Highway, Chalmette)
What: This annual wreath-laying ceremony honors the troops of the Battle of New Orleans, plus there are crafts and cooking demos. Park staff and volunteers are dressed in period clothing to represent American and British soldiers and civilians, and there are military drills and period weapons firing.
When: Jan. 12-15, 2023; 2024 dates TBA
Where: French Quarter
What: Pardi-Gras kicked off in 1997 and has been attracting Jimmy Buffet fans, known as "Parrot Heads," plus other revelers who love a good "trop-rock" party ever since. In its third decade, "The Ultimate French Quarter Party" packs a few happy hours, a pub crawl, and lots of live music performances at several venues on Bourbon Street.
There is a second line on Friday, starting on the corner of Bourbon and Orleans streets and preceded by the Bourbon Street pub crawl. There's also a street party on the 700 block of Bourbon Street on Saturday. Pardi-Gras is open to anyone, as long as you don't mind hanging with the Hawaiian shirt-wearing, Margarita-sipping crowd. The 2023 year's theme was "Queenz of New Or-leenz."
Martin Luther King, Jr. Celebration
When: Monday, January 15, 2024
Where: Oretha Castle Haley Boulevard and Al Davis Park
What: On this day, the city of New Orleans throws a block party and a parade at the historic Oretha Castle Haley Boulevard, and hosts a celebration program at Al Davis Park.
If you're planning to visit New Orleans in January, be sure to check out our resource for French Quarter Hotels.
---
Related Articles