How to Dress for Mardi Gras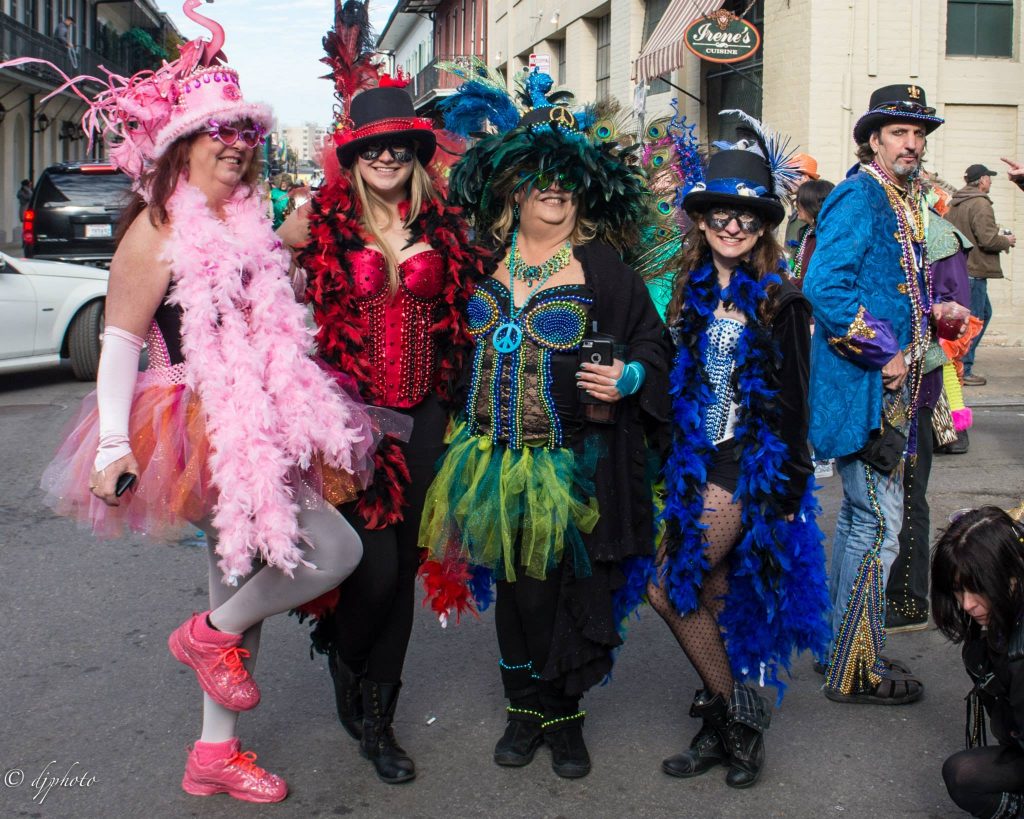 Mardi Gras Mode by David Fary
Costumes are to the Carnival season as peanut butter is to jelly – frankly, they're indispensable. If you're in New Orleans for the Mardi Gras (or the Carnival time that precedes it) and need a little costume inspiration before the height of parade season, head to the 26th Annual NOLA Designer Carnival Costume Bazaar, presented by Threadhead Cultural Foundation.
This year's bazaar is on Sunday, February 12th at the New Orleans Healing Center (2372 St. Claude Ave.) from 11am-5pm. It is free and open to the public.
Over 20 designers, costumers, hatters, and mask-makers will display a wide variety of costume items, with prices ranging from $5 on up. There are restrooms and dressing rooms available.
In years past, outfits at the costume fair have run the gamut from "low-end, high-end, and everything in between," according to organizer Cree McCree.
McCree, who also designs her own costumes to sell at the event, says the atmosphere is festive and inclusive. It's not just for women; there are costume options for men and children. If you're traveling with a pet and want to dress up your dog for the season, there are options for your four-legged friend, too (don't forget: Barkus is on Feb 19!).
Some regular shoppers are members of the Society of Saint Anne, the esteemed marching group who walks from Bywater through the Marigny into the French Quarter on Mardi Gras Day. If you're in town on Mardi Gras and want to see some of the most amazing costumes…anywhere, really, Saint Anne members gather around Bud Rip's (Piety and Dauphine St) between 8 and 9am; bring a good costume! Other costume shoppers are less experienced but just as enthusiastic.
"It's an equal opportunity costume bazaar," McCree said.
Customers are free to mix and match options from different sellers. McCree says part of the fun for the designers is watching people combine separate items, like a headdress from one vendor with a tutu from another, into a cohesive costume. The improvisation reminds her of jazz musicians merging different styles into an unforgettable song.
"Our costumers are very creative," McCree said.
The Threadhead Cultural Foundation, an organization launched in 2009 to promote the cultural heritage of New Orleans, stepped in to sponsor the bazaar after 2011, and the New Orleans Healing Center became the new host.
"Threadhead Cultural Foundation was our knight in shining armor, and continues to have a presence at the Healing Center," said McCree.
Other Great Spots to Shop for Mardi Gras Costumes
Practical Tips on How to Dress for Mardi Gras
If you want to really enjoy Mardi Gras, dress comfortably. You'll likely be doing a lot of moving around and you will not want to be bothered with shoes that hurt your feet.
The only thing predictable about New Orleans weather is that it's unpredictable. February temperatures have ranged from 48° to 65°. Dressing in layers would be wise. Also, be sure to check the weather. If there's any chance of rain, be sure to pack a raincoats, rain ponchos, umbrellas, and rain boots.
Anything goes for Mardi Gras, but if you don't want to wear a costume, you'll fit right in wearing purple, green, and gold.