Holiday Cocktails in the French Quarter and Nearby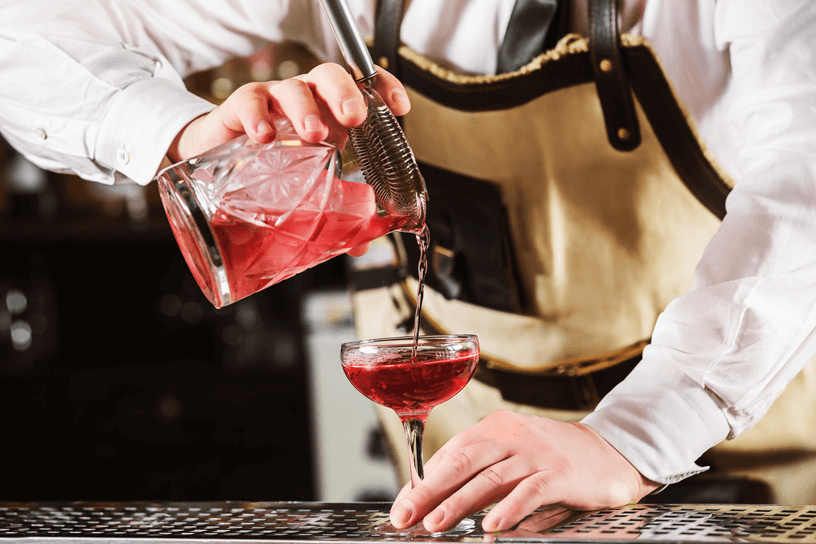 New Orleans is rife with culinary traditions — all 300 years' worth of them. One of those wonderful traditions is Reveillon. For a few years now the increasing number of restaurants (75 this year) is participating in bringing special Reveillon menus to the table.
Alongside the turtle soups, the oysters, and the foie gras some of the best restaurants in the city are also happily pitching in for Reveillon on the Rocks. Each year local bartenders create both classic and original cocktails to celebrate the Reveillon with holiday-themes sippers. Some of those are offered as lagniappe on the Reveillon menus, others can be enjoyed as a standalone.
Here are the highlights of the most enticing concoctions for this holiday season in and around the French Quarter, plus the most dazzlingly festive bars to enjoy your holiday-theme cocktails.
Sparkle in the bar
Few iconic restaurants in the city pull all the stops with as much abandon as the venerable Arnaud's. In addition to its annual traditional Reveillon menu (served between December 1 through 23), the restaurant will have holiday lunch specials, and, beginning on December 11, the 12 Days of Moët. The restaurant partnered with Moët & Chandon to feature a variety of daily specials, such as a Bubble Bar on Sundays, Mini-Moët Mondays and Double the Bubbles on Tuesdays. In the two weeks leading to Christmas, during lunch on Monday through Friday and for brunch on Sunday, Arnaud's will feature a different champagne special every day.
Also in the French Quarter, the Hotel Monteleone lobby is another place to check out for the tall, impressive tree and, depending on time of day, caroling choirs from some of the local schools. The city's only revolving bar, the magical Carousel Bar & Lounge located in the hotel's lobby, is the next logical spot for getting your holiday spirit on with the specialty and the classic New Orleans cocktails. Among the holiday cocktail specials this season are the Twelfth Night and Christmas Renaissance. Christmas Renaissance contains Old Simon genever (a gin-like Dutch spirit), and the main spirits of the Twelfth Night are cognac and sparkling wine.
One of the to-do items on the holiday bucket list for visitors and locals alike is strolling the dazzling lobby of the Roosevelt Hotel. The block-long display of more than 22,000 lights and 44 birch trees in the gilded, marble-floored Waldorf Wonderland Lobby is fantastic, setting off with the annual lighting ceremony on November 28.
While you enjoy the display in the lobby, stop by the Sazerac Bar for some festively sophisticated ambiance and this year's featured holiday cocktails, Mrs. Claus' Cookie and Santa's Candy Cane. The Mrs. Claus' Cookie is made with vanilla vodka, brown sugar syrup, and cream. Santa's Candy Cane features peppermint schnapps, creme de cacao, and, well, a candy cane.
Holiday sippers for Reveillon
A handful of local restaurants that offer a multi-course, prix fixe Reveillon menu throw in a holiday-themed specialty cocktail as lagniappe. Vacherie's deliciously decadent four-course Reveillon menu this year is complemented with a "Poinsettia," a sparkling wine cranberry cocktail. SouBou's four-course Reveillon menu includes a lagniappe shot of house-made coquito, a Puerto Rican-style eggnog. Muriel's Jackson Square is offering eggnog; The Pelican Club, also eggnog (with bourbon); and Gumbo Shop serves up cafe brulot, the always exciting crowd pleaser. Muriel's other holiday offering, spiced pear elixir, is not part of the Reveillon menu, but sounds like a must-try — with gin, spiced poached pear puree, lemon juice, ginger syrup, and sparking wine as a topper.
Standalone standouts
These holiday cocktails aren't part of the Reveillon menu and can all be enjoyed as a standalone treat. Antoine's three choices for this holiday season are Peppermint Patty (with white creme de cacao, creme de menthe, vodka, and cream); White Christmas, and Fiery Gingerbread Man, made with bourbon, cream, and two types of schnapps — cinnamon and butterscotch.
The Bombay Club will be serving Sloe Suze cocktail on both Christmas and New Year's eves and days. It's a combination of Plymouth Sloe gin and simple syrup, served with lemon and a sprinkle of nutmeg. Doesn't it sound delicious?
Galatoire's 33 Bar and Steak's Parisian Christmas cannot get more Christmasey, with vodka, cassis, a float of ginger beer, and an orange and clove twist. Another special, St. Cidre, is served with a sugared rim. Besides apple cider, another main ingredient is the apple and cinnamon-infused whiskey. To fight the chill, such as it is in New Orleans, Mississippi Mudslide at Cafe Beignet is just the thing — with Baileys, vodka, milk, and coffee liquor, topped with whipped cream and a drizzle of chocolate.
Visit followyourjoy.com for a full list of Reveillon on the Rocks participants.