Book A French Quarter Hotel
Ghost Tours in the French Quarter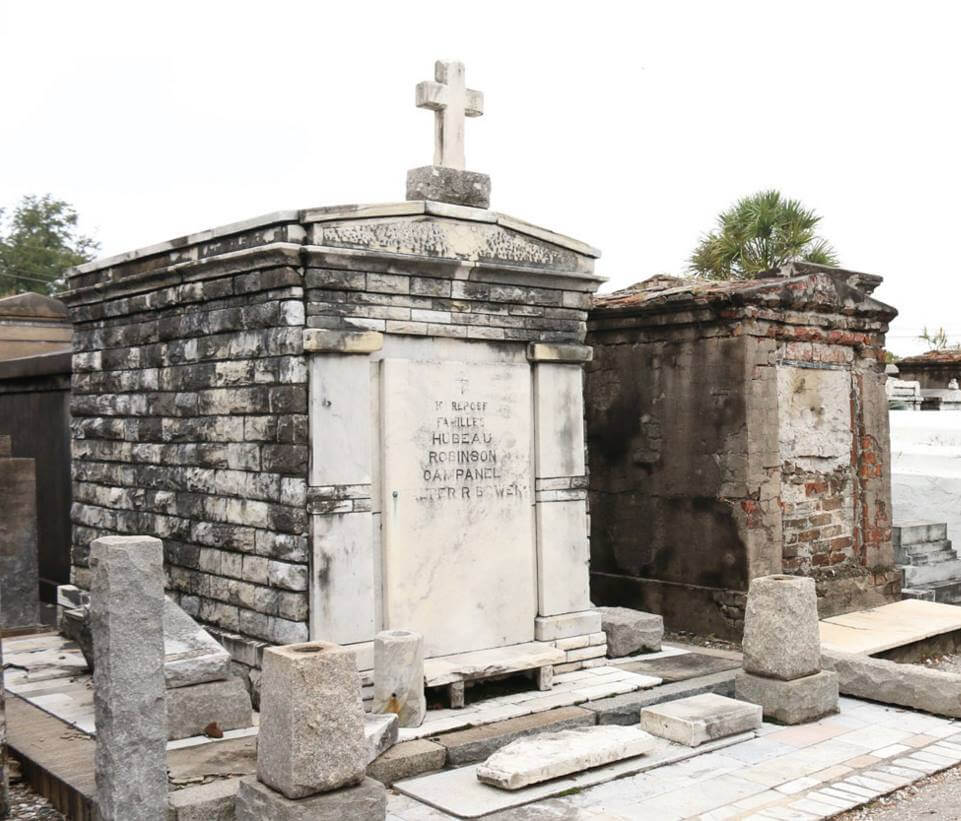 Photo courtesy of Cemetery Tour New Orleans at Basin St. Station on Facebook
Halloween in New Orleans has grown into an extremely popular party holiday for pleasure seekers, with its active nightlife, dining scene and seasonal festivals booming this time of year.
But the city holds a much more nuanced appeal for those interested in the supernatural and macabre, and when Halloween rolls around there is no better place to test the boundaries of reality and mysticism.
Indeed, if ever there was a town where claims of ghosts and hauntings gain currency, it is New Orleans. The child of hot blooded French and Spanish colonial parents, heavily influenced by African traditions and draped in Southern gothic ambiance, the city's history is rife with the sort of intrigue, lore and clouded uncertainties that provide fertile ground for tales of restless spirits and obsessions that reach beyond the grave.
The history of the French Quarter in particular is teeming with ghost stories, and their veracity is greatly aided by the darkly romantic architecture, opened-minded denizens and the well-rooted attitude that anything can happen here.
Ghosts and Their Guides
Strolling the streets of the Vieux Carre, the past seems close at hand and it's easy to imagine a compelling story behind each old cypress door. Chapters from American history do indeed wait behind some, from the plotting of the Battle of New Orleans to the conspiracies around the JFK assassination. Behind others, however, lurk much more chilling tales, which are naturally told with greatest effect after dark.
Bartenders, shopkeepers and even cast and crew at Le Petit Theatre (616 St. Peter St., 504-522-2081) readily share stories of the spirits they swear to have witnessed in their workplaces, while the right pair of eyes may catch shadows and reflections of an unquiet past in the corridors and bedrooms of the old French Quarter buildings that today house hotels and inns.
Just as there is no shortage of ghost stories in New Orleans, there are plenty of people willing to relate them, often with great theatrics and usually for a price. Some of the more famous chapters from the town's creepy canon include the story of the Turkish sultan who is said to haunt the imposing Creole mansion at the corner of Dauphine Street and Orleans Avenue where in the 19th century he and his harem were brutally murdered.
Another involves a ghost widely known as Julie or the Creole Lady, who is believed to haunt the roof of 734 Royal St., where she is said to have died from exposure in a futile and fatal attempt to prove her love to a French nobleman she could never marry.
Perhaps the most well-known and ghastly resident of the Quarter's supernatural menagerie is the fabled haunting of the LaLaurie Mansion at 1140 Royal St., located at the dark and quiet downriver end of the Vieux Carre. It was here, in the antebellum days, that firefighters called to extinguish a blaze discovered a torture chamber in the mansion's attic where a cruel mistress had practiced unspeakable horrors upon chained slaves. Madame LaLaurie's legacy is stoked to this day by claimed sightings of a small child wandering the building's rooftop, as though seeking escape from long-ago brutality, only to plummet towards the ground and vanish.
Numerous walking tours in the Quarter are devoted to this subject matter, often with costumed and highly-animated guides who double as street performers during the stroll. The Haunted History Tour (504-861-2727), Voodoo Bone Lady (504-267-2040) and New Orleans Secret Tours (504-517-5397) all specialize in this genre, while the Historic New Orleans Walking Tours (504-947-2120) provides informative ghost tours along with tours of historic neighborhoods and the city's cemeteries.
Cities of the Dead
Yes, even the graveyards in New Orleans are major tourist attractions and points of cultural interest. Many secrets have been buried in the Crescent City through the generations, but the same cannot be said for its deceased residents, who more likely are interred in aboveground vaults and tombs.
The city's famous graveyards are labyrinthine complexes of these masonry structures, often beautifully appointed with funereal statuary and evocative inscriptions. Surrounded by walls that are themselves filled with the remains of deceased New Orleanians, these cemeteries are often referred to as "cities of dead."
Though deeply historic, the cemeteries are very much functional today. In fact, in some families a well-kept tomb is bragged about as if it were a fat retirement policy waiting at the end of the line, and the jazz funerals for local musicians usually wend their way through these cemeteries to the final gig.
Perhaps the most famous cemetery near the French Quarter is known as St. Louis No. 1, which was established in 1789 and is today operated by the Archdiocese of New Orleans. Located on Basin Street just outside the Quarter, this densely packed cemetery is the final resting place for many of New Orleans' historical figures, including Marie Laveau, the famous 19th century voodoo queen.
You can only come here via a tour; contact Cemetery Tour New Orleans at Basin St. Station or Le Monde Creole (504-568-1801) for a tour in French. Several other companies, including Haunted History and Historic New Orleans Tours, can also lead you around this cemetery.
---
Related Articles