Book A French Quarter Hotel
Decatur Street, a Block-by-Block Guide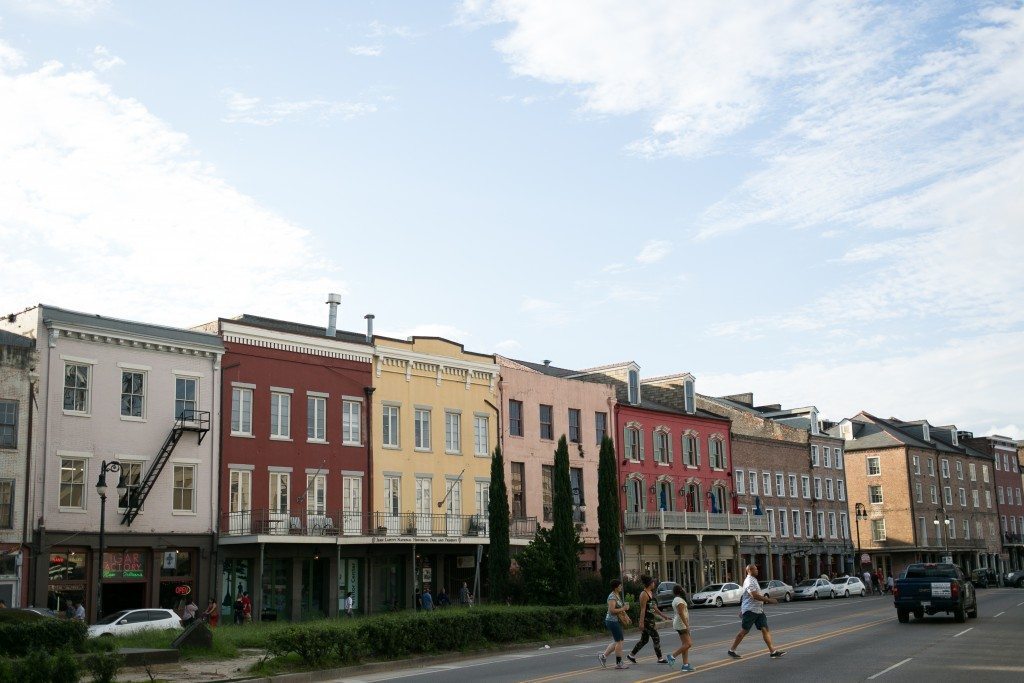 Decatur Street. Photo by Trevor Mark
Decatur Street runs parallel to the Mississippi River, starting on Canal and ending at St. Ferdinand Street in the Marigny. Decatur was previously known as Rue de la Levee ("Levee Street") but was renamed in 1870 after Stephen Decatur, the American naval war hero and Commodore.
Basically a waterfront strip, the French Quarter part of Decatur Street has catered to sailors and hosted the kinds of businesses a big port would have. By the 80s it still retained its port feel, especially in the Lower Decatur near Canal Street, but the part closer to Esplanade and Frenchmen Street became a bohemian haven with a vibrant goth and punk scene.
All that changed drastically in modern times, though some places remained, like Cafe Du Monde, Central Grocery and Tujague's. These days Decatur Street is as vibrant as ever, even though the punk clubs and dive bars had been replaced by restaurants that cater to tourists, and bars and clubs that have more traditional jazz bands. There seems to be a candy store and a visitor center on every other block, and the number of places that sell po-boys, daiquiris and Mardi Gras masks is staggering.
There's nothing wrong with that, of course. Decatur Street features a diverse selection of restaurants, a few funky bars, lots of shopping (from national chains like Sephora to unique local artist co-ops and vintage stores), and plenty of live music. In just 14 short blocks for its French Quarter part, Decatur packs a few legendary, centuries-old institutions, historic landmarks, an amazing bookstore, and so many zydeco-blasting souvenir shops that all your hot sauce and mask needs could be addressed within one block.
Let's start walking from Esplanade Avenue to Canal Street, noting the highlights. Two places stand out when you are on Esplanade and Decatur — the live music bar Check Point Charlie and the firehouse, at the beginning of Frenchmen Street. This is where the French Quarter ends and Faubourg Marigny begins.
On the corner of Esplanade and Decatur (1331 Decatur St.) is Balcony Music Club (BMC), a bar with live music and pub grub. After a few in-between reincarnations, BMC has eventually replaced the beloved local haunt El Matador Lounge. It seems to have music spilling onto the street at all hours, from brass bands to rock to traditional jazz.
Across the street, the Old U.S. Mint (the New Orleans Jazz Museum) takes up a chunk of space on the block. Built in 1835, the Old U.S. Mint uniquely served as both a U.S. and a Confederate Mint. The building is now a museum (free to the public) and research facility. It also serves as a site for music festivals, like the French Quarter Festival and Satchmo SummerFest. The permanent collection showcases coins and stamping presses. Upstairs, you'll find the "New Orleans Jazz" exhibit featuring priceless pieces like Louis Armstrong's first cornet and Fats Domino's Steinway grand piano, plus historic recordings and rare film footage.
The next block is home to the always-busy Envie Espresso Bar & Cafe (1241 Decatur St.), The Artist's Market and Bead Shop (1228), and Palm Court Jazz Cafe (1204). Envie is an airy coffeehouse with comfortable sidewalk seating, popular with the locals. It has a full bar and a big breakfast menu, plus small plates like hummus, and panini and burgers.
The Artist's Market and Bead Shop has two entrances, one on Decatur and another on the French Market side, and is filled with unique, well-priced local art and beads. Palm Court Jazz Cafe is a must for jazz and Creole cuisine fans alike. The dining room is pure old New Orleans elegance, with high ceilings, a mahogany bar, mosaic-tiled floor, jazz photos all over its brick walls, and a Steinway grand piano. The place has hosted numerous jazz greats and their fans since 1989. Palm Court closes for a few weeks at the end of summer, but otherwise, the bands play every Wednesday through Sunday. The menu is classic Creole: shrimp remoulade, gumbo, oysters Bordelaise, chicken Clemenceau, and so on.
The 1100 block is a heavy hitter with a slew of legendary bars, longtime popular restaurants, and two relative newcomers that bring fresh elevated takes on the local cuisine and cocktail scene. The two most recent additions on the block, Saint John, replacing the now-closed Trinity (1117), and Cane & Table (1113) are both sleek foodie havens. St. John is Chef and owner Eric Cook's baby, serving "haute Creole cuisine."
Cane & Table describes its menu of small plates like ropa vieja and seviche as "rustic colonial cuisine" with the ambiance of Old Havana. The cocktail menu showcases seriously crafted concoctions, many of which are rum-based, imaginative updates of the classics.
If you can settle for less than a craft cocktail, the 24-hour dive next door, The Abbey (1123), and Molly's at the Market (1107) are two classic, laid-back, and welcoming bars of the French Quarter you should definitely check out. Molly's is home to an excellent jukebox, a back bar courtyard, and frozen Irish coffee. The bar was (and, to an extent, still is) a favorite of local musicians, journalists, and service industry workers since late founder Jim Monaghan opened it in 1974. It still serves as a starting point and lingering must-stop-hang for the annual Halloween French Quarter/Marigny shenanigans.
One of the French Quarter's bright stars and mainstays is the always-bustling Coop's Place (1109 Decatur St.). Coop's is a no-frills bar and restaurant with an extensive and excellent menu that goes way beyond bar food grub. The hands-down standouts are the seafood gumbo and rabbit and sausage jambalaya (the "supreme" version also has shrimp and tasso). Cajun fried chicken won't steer you wrong either. Popular with the locals and visitors, Coop's can get busy and loud. Please also note that it's 21 and older only, even the restaurant seating area, because of the video poker machines on premises.
Next up, on the corner of Ursulines at 1104 Decatur is a live music and art performance French Quarter mainstay, One Eyed Jacks, in its new home after replacing the southern food/BBQ and live music restaurant and before then, Jimmy Buffett's Margaritaville.
Moving on past the park with the gazebo, the next block, the 1000th, has the Christmas-themed Santa's Quarters (1025 Decatur St.), open all year round and positively magical, especially if you want to wow your kids with lavish decorations and elaborate holiday toys. It's also a great spot to stock up on NOLA-centric ornaments in Mardi Gras colors and every possible take on a fleur de lis.
On the same side, you can't miss the striped awning of The Original French Market Restaurant & Bar (1001). Open since 1803, the restaurant specializes in Cajun/Creole cuisine and seafood in particular. Across the street, two adjacent restaurants also serve Cajun/Creole fare, but the biggest draw of The Market Cafe (1000 Decatur St.) and Gazebo Cafe (1018) are their patios and the constant stream of live music.
The Market Cafe has been around since the early 80s, occupying the building that dates back to 1823, and was part of the French Market (check out the original cypress ceiling and columns). Bloody Marys and baked muffuletta are the restaurant's specialties. Gazebo Cafe's covered patio and courtyard are often packed, the bands mostly play jazz, and the ice cream daiquiris are delicious.
Check out the historic Dutch Alley nearby on N. Peters (home of the one and only radio station, WWOZ, currently looking for a new home) and French Market's Shops at the Colonnade. The strip of shops, some with Decatur and some with N. Peters addresses, is worth a visit if you're shopping for souvenirs or local specialties like pralines. Another Christmas store, Merry Christmas & All That Jazz, has lots of cool ornaments with local flair.
Moving past the gold statue of Joan of Arc, we come to yet another New Orleans landmark — and home of the muffuletta — Central Grocery (923 Decatur St.). This sprawling old-fashioned Italian grocery store is still run by the family of its founder, a Sicilian immigrant named Salvatore Lupo. He was credited for creating the famous sandwich, which now ships worldwide, along with Central Grocery's famous olive salad by the jar. You can eat your made-to-order muffuletta at one of the few tables in the back or take it to go. Also on the block is a novelty store Pop City (940 Decatur St.), which sells collectibles, toys, and clothes.
As we approach the Dumaine Street intersection, you'll go by the French Quarter Visitor Center (419 Decatur St., but temporarily closed and relocated to 916 N. Peters St. due to hurricane Ida damage to the Decatur location) and Magnolia Praline Co. (839 Decatur St.). Next, we come to two city institutions, Cafe Du Monde (800 Decatur St.). The grand dame of cafe au lait and beignets needs no introduction ever since it opened in 1862, so let's just say no visit to New Orleans would be complete without getting powdered sugar all over yourself. Hectic yet charming, Cafe du Monde is open round the clock and is busy at all hours.
Now you've reached Jackson Square! Here, you can have a beer and a po-boy at Monty's on the Square, whose French doors offer a view of the square (casual southern with modern twists, and local craft beer). This is where you'll also come to grab a mule-drawn carriage tour, by the park's gate on the Decatur side.
Then, past The Shops at JAX Brewery (a multi-story historic landmark that holds retail stores, cafes, restaurants, and a small museum dedicated to the brewery), The Fudgery and Walgreens, you'll come to the corner of Toulouse Street, the home of Cafe Maspero (601 Decatur St.). The always-open enormous windows provide a great view of the busy corner, and you might like its heaping seafood platters. The 609 Decatur St. space is now occupied by Pepper Palace, a chain that sells salsa, seasonings, rubs, hot sauce, and so on.
The next two blocks are light on restaurants, represented by the Crescent City Brewhouse (527 Decatur St.). The Brewhouse is a two-story, 17-barrel microbrewery with balcony and courtyard seating, an oyster bar, and lots of live jazz. Get the crab cakes or a pulled pork sandwich, and enjoy the bistro ambiance.
Then there's Tujague's new home (429), sharing the block with Big Easy Daiquiris (409). Tujague's hardly needs an introduction. The second oldest restaurant in the city, it was founded in 1856 and has since been offering traditional, fixed-price Creole menus to many a president and celebrity. Its iconic bar takes credit for inventing the Grasshopper cocktail, and the restaurant may or may not take credit for creating brunch.
Across the street, you'll find the sprawling H&M, Urban Outfitters, Vans, and the most recent addition, Sephora, next to one another. Past the souvenir shops blasting zydeco, French Market Inn, and PJ's coffee shop, you'll come to a historic landmark — the monument to the city's founder, Jean Baptiste Le Moyne de Bienville.
Past Conti Street, Decatur Street becomes quieter, with the exception of the House of Blues which takes up most of the 200th block with its concert venue and the restaurant/bar. The block livens up on most afternoons, with the trucks unloading band gear and people lining up to see the shows. The dimly lit, laid-back Kerry Irish Pub (331 Decatur St.), also features live music, but on a much smaller scale.
Across the street from the House of Blues between Bienville and Iberville, you'll find one of the best bookstores in the city, the bi-level Beckham's Bookshop (228 Decatur St.). It specializes in used, antiquarian, and rare books, as well as CDs and vinyl. A gem of a place, Beckham's has been around since 1979 at this location. It's crammed floor to ceiling, and is beer- and dog-friendly.
On the same block, at number 216, is a funky retro-inspired boutique not unlike Trashy Diva, called Dollz & Dames. It has a sister store in Seattle and sells vintage-inspired clothing, shoes and accessories. You can't miss its eye candy of a storefront on an otherwise sleepy side of the block.
Two restaurants close the journey up to Canal Street. Coterie Restaurant & Oyster Bar at 135 Decatur St. has all the New Orleans classics, from seafood platters to gumbo. Creole House Restaurant & Oyster Bar, located in a historic building on the corner at 509 Canal St., rounds up the tour of Decatur Street with its "casual Creole" menu.
There you have it — lots to see, eat, drink, and buy on the historic yet young-at-heart Decatur Street!
For more, check out our guide to the Famous Streets of the French Quarter.
Also, are you planning to spend some time in New Orleans soon? To stay close to all the action, book a historic boutique hotel in the French Quarter at FrenchQuarter.com/hotels today!
---
Related Articles