COOLinary: What's on the Menu in August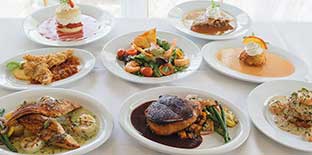 Photo courtesy of Coolinary New Orleans
There's no better time to try out an award-winning restaurant during your visit to New Orleans (or play a tourist in your own city) than August.
COOLinary is orchestrated by the New Orleans Convention and Visitors Bureau and was conceived as a promotion to lure diners to local restaurants during the slower summer months — the month of August especially— during which the restaurants all over the city offer discounted dining deals. It's the only dining program that offers deals this time of year, though you can enjoy similar perks during the holiday Reveillon citywide promotion in December and the New Orleans Restaurant Week (September 11-17, 2017).
This year, the deals follow the same format as in previous years: the prix fixe three-course dinner and brunch menus top at $39, and the two- to three-course lunch menus don't exceed $20. This is your chance to try out that new restaurant or revisit the old favorite. Also, consider showing some love to the French Quarter restaurants whose foot traffic may be affected by the ongoing Bourbon Street road construction.
During its 13 years, COOLinary kept growing in size and popularity. This year, a whopping 103 restaurants are participating (you'll find 106 total locations on the list, with four Zea Rotisserie & Bar/Cafe locations including Harvey and Kenner). That's up from about 80 restaurants that signed up last year.
The participating restaurants are spread all over the city, including the Marigny, CBD, Uptown, and the French Quarter, and run the gamut from the iconic to the smaller casual ones. The list includes the famous Antoine's, Arnaud's, Bayona, Commander's Palace, Domenica, Tujague's, and Galatoire's. Some more casual participants include Happy Italian Pizzeria and Zea Rotisserie Cafe in Harahan, and Katie's in Mid-City.
The newcomers this year total eight and include Maypop in the Warehouse District with a Southeast Asian/Louisiana menu; Public Service with its high-end takes on the Southern comfort food, located inside the stunning NOPSI Hotel that just opened last month in CBD; and Lula Restaurant Distillery in the Garden District, the only restaurant-distillery in the city so far. Other new additions include Rosedale, Susan Spicer's new venture in Lakeview, and Avo, a chef-owned restaurant in the Garden District with Sicilian roots. Toups South inside the Southern Food & Beverage Museum also jointed the COOLinary roster. This is a second location from chef Isaac Toups, adding to his first restaurant is on Carrollton Ave. in Mid-City.
We can easily go on, trying to do justice to all the mouth-watering concoctions on the COOLinary menus this August. One of the highlights is avocado and crab soup on the $30 dinner menu from Executive Chef Phillip Todd at The Bombay Club, a martini bar and restaurant located inside the Prince Conti Hotel. The French/Creole dinner menu at Broussard's (est. in 1920) gives you a choice of grilled pork tenderloin in Creole mustard cream sauce with haricots verts almandine, or pan roasted Gulf fish with parmesan herb butter and salad for entree, and sorbet or bread pudding for dessert. The three-course prix fixe menu is only $19.20!
Kingfish, a casual French Quarter cocktail bar and restaurant that pays tribute to the Huey P. Long era, serves up roasted beet salad with Creole cream cheese as part of its $18.93 lunch menu. Their grilled pork tenderloin comes with corn maque choux, and is served with white chocolate bread pudding with creme fraiche caramel sauce.
Vacherie's Chef Jarred Zeringue draws inspiration from the restaurant's namesake, the town west of New Orleans where he grew up, for the COOLinary $25 dinner menu that couldn't more southern if it tried. While lots of restaurants offer one or two choices on the menu, leaving vegetarians and non-meat eaters behind, Vacherie Restaurant & Bar has three for the first course, including seafood gumbo and fried green tomatoes. The second course has four, to include broiled drum, BBQ shrimp and grits, southern fried chicken breast, and a vegetarian entree of the day. The dessert course also has four choices: bread pudding with whiskey sauce, pecan pie, chocolate torte, and carrot cake. Bon appetit!