The Best Live Music Clubs in the Quarter
By: Ian McNulty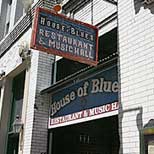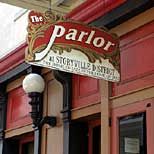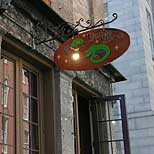 Top to bottom: House of Blues, Jazz Parlor at Storyville, and Lounge Lizards.
The live music scene in the French Quarter is a feast with many courses, and one that caters to many different appetites.
Looking for Dixieland jazz? Got it. Want to hear Cajun and zydeco rhythms? They come direct from the bayous to Bourbon Street nightly. Maybe you can't make up your mind between rocking out at a club or cooling down with an intimate acoustic set. Don't choose – you can easily walk from one venue to another to enjoy a variety of music in one evening.
What follows is a primer on some of the top venues delivering this nightly musical cornucopia.
Jazz is well represented at the Jazz Parlor at Storyville (125 Bourbon St., 504-410-1000), but so are local blues, R&B, swing and even Latin sounds. Located at virtually the front door to Bourbon Street, this classy, upscale music hall is a fitting start or pleasing ending to a night on the town.
Donna's Bar and Grill (800 N. Rampart St., 504-596-6914) may look like your typical French Quarter barroom from the outside, but the stage inside hosts an extraordinary array of local musical talent, from eight-man brass bands to sonorous torch singers. Monday night brings a real treat when musicians from all over town converge in the laid-back club with their instruments for a jam session hosted by drummer Bob French.
Kerry Irish Pub (331 Decatur St., 504-527-5954) lives up to its Celtic billing with some of the best-poured Guinness stout in town and a welcoming atmosphere. There's no cover charge for the nightly live music, which includes traditional Irish, alternative country, bluegrass and rock.
Bawdy, down-and-dirty blues are the order of the day at the Funky Pirate (727 Bourbon St., 504-523-1960), at least whenever bluesman Big Al Carlson is living large on the club's tiny stage. His performances, six nights a week, can be as hilarious as they are scandalous, and the backing band keeps the beats going at this high-spirited, fancifully-decorated pirate theme bar.
The eclectic variety of music hosted by the Dragon's Den (435 Esplanade Ave., 504-949-1750) matches the exotic setting in this singular club. Located at the edge of the Quarter above a Thai restaurant, the intimate space creates a seductive atmosphere with lustrous red hues, Far East décor and a wrought iron balcony over the tree-lined avenue. Look for all manner of music and a young, very local crowd.
The big, airy room at Cafe Brasil (2100 Chartres St., 504-949-0851) is home to Latin, jazz, swing and some truly offbeat acts, while the tropically-colored building itself has become a local landmark anchoring the boisterous Frenchmen Street experience. The sidewalk scene the club generates is almost as entertaining as what's going on inside, offering great people-watching in this bohemian mecca often complimented by pick-up bands and spontaneous dancing in the street.
The front room of One Eyed Jack's (615 Toulouse St., 504-569-8361) looks like a swanky bordello from New Orleans' gilded past, while the main performance hall is one of the most unique rooms in the Quarter. A horseshoe-shaped bar overlooks a stage big enough for touring rock bands and even 1950s-style burlesque shows
.
The highly-successful House of Blues (225 Decatur St., 504-529-2583) opened its New Orleans venue more than 10 years ago, and it has grown into the French Quarter destination to hear nationally touring acts. In addition to the main stage, the club often has music in its restaurant or patio bar, as well as the more intimate concert hall in the adjacent House of Blues Parish, which hosts many local performers.
Just down the street from the House of Blues, Lounge Lizards (200 Decatur St., 504-598-1500) is a hotspot for local rock and R&B acts in a comfortable, upscale venue, often at no cover charge.
Cajun Cabin (501 Bourbon St., 504-529-4256) offers rollicking Cajun and country favorites, all powered by accordions and scrub boards amid a rustic décor. Don't be surprised if a band member hands you a scrub board and a pair of spoons to join in on the rhythms.
Subscribe
SIGN UP FOR FRENCHQUARTER.COM'S NEWSLETTER AND RECEIVE SPECIAL HOTEL DEALS & FRENCH QUARTER NEWS.