Book A French Quarter Hotel
Thanksgiving in the French Quarter and Nearby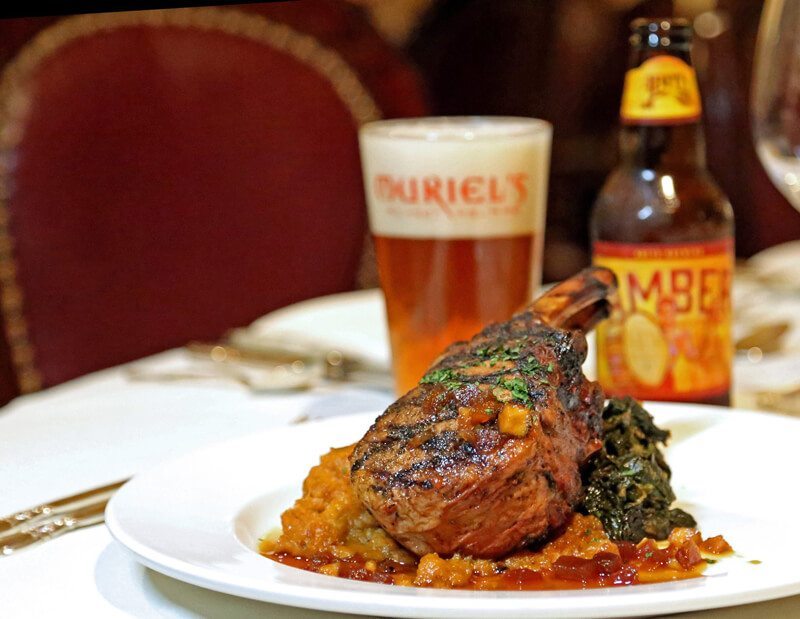 Photo courtesy of Muriel's Jackson Square on Facebook
With Thanksgiving upon us, summer weather is truly over, and the fall schedule is packed with fun activities you can only find in New Orleans. Plus, quite a few notable restaurants offer the prix fixe, a la carte, and buffet feasts of Southern classics on Thanksgiving Day. There's turkey, of course, but also lots of traditional holiday favorites with a few contemporary twists. Here's what you can do, see and eat if you're in New Orleans for Thanksgiving.
Get to the Races
The opening day at the Fair Grounds Race Course (November 19) kicks off the holiday season for New Orleans, and you'll see half the city donning spectacular hats and turning up at the racetrack to happily mingle, cocktail in hand, and to gorge on oysters and bet on horses. The races on Thanksgiving Day, November 23, start at 11 a.m.
The racetrack also offers a Thanksgiving sit-down dinner in the Clubhouse and the Black Gold Room (reservations only). The prices range from $75-$135 per seat for adults and $37-$67 for children ages 12 and under. There's also a first-come, first-served buffet in the Pan Zareta Room ($37 for adults and $15 for kids 12 and under). Please note that the Clubhouse has a dress code, but you'd probably want to dress up anyway — and don't forget the hat.
Bayou Classic
Each November the Bayou Classic draws the fans and alumni of Southern University and Grambling State University to New Orleans to partake in one of the country's greatest college sports rivalries. The event stretches for four days and includes a fan fest, a parade, Battle of the Bands, and, of course, the big game. The game kicks off on Saturday, November 26, at 4 p.m. at the Superdome (tickets are $16-$43).
The Battle of the Bands between the Grambling "Marching Tigers" and the Southern "Human Jukebox"on Friday, 6-10 p.m., promises to be amazing (tickets are $20-$40). The Fan Fest is held on Saturday, November 25, 11:30 a.m. to 3:30 p.m., at Champions Square. The same two marching bands will lead the 7th Annual Bayou Classic Parade on Saturday, November 25, starting at 10 a.m., from the Superdome to the French Market. Bayou Classic closes with an after-party on Saturday at the Metropolitan nightclub starting at 11 p.m.
Small Business Saturday
Get a head start on holiday shopping minus the Black Friday crowds on Small Business Saturday, November 25. As part of the annual nationwide initiative to support local retailers, businesses across New Orleans will be opening their doors and offering special deals and discounts. Stay Local, a New Orleans independent business alliance, is among the area organizations sponsoring the event. Check the organization's website to see the updated list of participating businesses, including some galleries and boutiques in the French Quarter and the stretch of Uptown retailers on Magazine Street.
Small Business Saturday is also an Indies First day, which celebrates independent bookstores. Local bookstores like Octavia Books will participate by hosting local authors and more.
Thanksgiving Day Dining in the French Quarter or Nearby
 Some of the city's best restaurants will be offering multi-course Thanksgiving dinners in three formats — prix fixe, a la carte and buffet. New Orleans celebrates food on any given day, but these holiday menus take it to another level, at the same time paying homage to the Southern culinary traditions.
The Louisiana spin on the traditional holiday bird is typically done three ways: deep-fried; smoked; and crawfish-style boiled with onions, garlic, potatoes, and crawfish boil spice. Then there's the turducken, a New Orleans' jazzed up invention of a chicken inside of a duck inside of a turkey. Some traditional Louisiana recipes that make into the chefs' kitchens on Thanksgiving also include cornbread, oyster and Cajun dirty rice dressings, and pecan pie.
Here's a quick rundown on what's on the menu in some local restaurants on Thanksgiving Day. This could be your best home away from home experience. Plus, someone else will be doing all the cooking!
Prix fixe: $55 per person
The special menu includes signature shrimp Arnaud (Gulf shrimp marinated in tangy remoulade), traditional roasted turkey with the choice of cornbread or oyster dressing, and either pumpkin roulade or pecan pie for dessert.
Prix fixe: $39
The three-course Thanksgiving menu by Executive Chef Phillip Todd will be served on Thursday from 3 to 10 p.m., in addition to the regular dinner menu of British-inspired fare with Cajun flair. Choose either the smoked rabbit and Andouille gumbo or pumpkin gnocchi Parisienne as your first course. The main course is turkey breast, served with smoked oyster dressing and cranberry-satsuma sauce. Tucked inside Prince Conti Hotel, The Bombay Club has dozens of handcrafted cocktails on the menu plus the largest martini selection in the city.
Prix fixe: $65
Brenann's will be serving a three-course Thanksgiving dinner from noon till 7 p.m., hence the brunch elements on the menu like eggs Benedict and eggs Sardou. There are whopping eight entree choices, including pig cheeks, grilled redfish, and fried rabbit. The turkey is roasted and sweet-tea brined, and served with cornbread dressing.
A la carte
The special a la carte menu from chef Meg Bickford features Commander's turtle soup and duck dirty rice calas. You can get the shrimp and mirliton stuffing as a side. The star is the chef's turducken: roasted quail stuffed with turkey and duck boudin.
Prix fixe: $58
The three-course Thanksgiving menu includes such seasonal nods as pumpkin gnocchi and pumpkin-pie creme brulee. There are five choices for entrees, including roasted turkey and roasted half duck. The turkey is served sliced, and there's a kids' menu.
Prix fixe: $58
The Thanksgiving and Christmas menu is the same at this iconic restaurant. It will be served from 11 a.m. to 9:30 p.m. and will include four courses of the favorites like crab and brie bisque, roasted ducking Madison, trout Amandine, Kobe ribs, and pork chops. For dessert, enjoy the restaurant's signature white chocolate bread pudding with Maker's Mark caramel sauce.
Buffet: $39 adult, $18 children ages 6-12
This Thanksgiving buffet is a feast of Southern comfort food, courtesy of chef Jarred Zeringue. It will be served from noon to 4 p.m. on Thanksgiving Day, and although reservations are accepted the walk-ins are also welcome. The impressive menu checks off quite a few boxes of the Cajun and Louisiana holiday classics: Roasted turkey with homemade gravy, glazed baked ham, roast beef debris, seafood and okra gumbo with jasmine rice (Vacherie's signature), cornbread dressing, and candied yams. Also, expect lots of roasted and fresh veggies, cheeses, and an array of homemade desserts. Vacherie is located on the first floor of the Hotel St. Marie, at the corner of Toulouse and Dauphine Streets.
---
Related Articles