Book A French Quarter Hotel
Summer Dress: Beating the Heat at Gallier House in New Orleans
By: FrenchQuarter.com Staff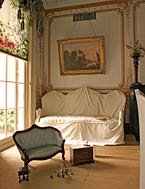 "Summer Dress" at Gallier House
One sure sign that summer is here is the annual re-creation of the 19th Century housekeeping practice known as "Summer Dress". White canvas slip covers, sheer window treatments and sisal rugs, now the rage in today's sophisticated homes, were once an integral part of the Southern housekeeping ritual of keeping cool in the steamy summer months.
This light and airy look is a summer tradition at the historic Gallier House in the French Quarter. Every year, the magnificently restored 1857 town house of New Orleans architect James Gallier, Jr. adheres to the "Summer Dress" code as temperatures soar. Like most Southerners, the Galliers would dramatically change the decor of their home in order to stay cool and comfortable.
As in the Galliers' time–when there was no air conditioning, electric fans, or window screens–cool white slipcovers protect elaborate upholstered furniture. Sea grass mats replace woolen rugs and carpets; heavy silk draperies are removed, leaving the windows veiled in airy lace curtains that catch the summer breeze. Chandeliers, gilded picture frames and mirrors are wrapped in netting to protect them from insects and dirt. As a barrier against annoying insects, the beds are all draped in mosquito nets, and a glass-domed flycatcher baited with sugar water and cobalt poison is set out to attract bugs that have slipped through the open windows.
As it has done for more than a century, Gallier House has donned its summer attire. Summer Dress will be on display until the end of August. Guided tours of Gallier House, located at 1132 Royal Street, are conducted by admission Monday through Friday. Tour times are 10:00 a.m., 11:00 a.m., 12:00 p.m., 2:00 p.m., and 3:00 p.m.
For further information about "Summer Dress" at Gallier House, please contact the Hermann-Grima/Gallier Historic Houses at (504) 525-5661 or check the website at www.hgghh.org.
---
Related Articles