How To Do Halloween in New Orleans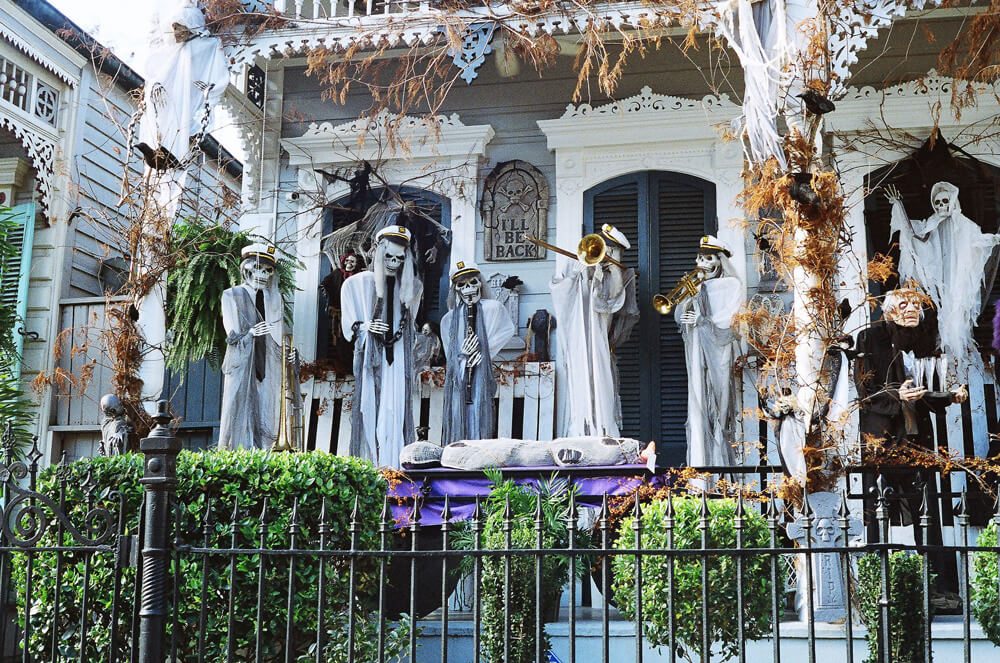 Halloween Decorations, French Quarter by Jake Cvnningham
In New Orleans, Halloween is much more that just a night for kids to go treat-or-treating, chaperoned by their parents. Just like with many other holidays, New Orleans ramps it up in its unique, signature style — complete with costume parties, balls, street parties, and, of course, a parade. If you'll be in New Orleans for Halloween, you're in for some ghoulish, outlandish treats. Here are our picks.
For two decades , Voodoo Authentica has hosted this celebration — which is not to be confused with the similarly titled music festival in City Park. VoodooFest, held from 1-9 p.m. on Wednesday, October 31, at 612 Dumaine St. in the French Quarter, packs an incredible amount of information, entertainment, and voodoo-inspired gift shopping into one very full event.
Priests will be on hand to speak and teach on Voodoo, the Louisiana's version of the faith, and the music and spirituality associated with the Lwa — the spirits of the Voodoo pantheon. A small market set up outside the shop will sell practitioner-made potion oils, gris gris bags, voodoo dolls, plus African and Haitian art (perfect presents for the upcoming holidays, maybe?). VoodooFest ends with a closing ancestral healing ritual.
Throughout October, the historic Hermann-Grima House, located in the French Quarter (820 St. Louis St.), changes up its historical tours to explore the mourning spaces of the 19th century. The house is swathed in somber colors to reflect the period of mourning for Marie Anne Filiosa Grima, mother of Felix Grima, who died on the property October 15, 1850. During a guided tour you'll explore the property while learning about the religious and cultural significance of death for the Creole families living here in the 19th century (tickets are $15.45).
One of the city's most impressive parades outside of carnival season is this Halloween procession, which is happening this year on Saturday, October 20.
The parade itself kicks off at 6:30 p.m., starting at Elysian Fields Ave. and rolling through the Quarter to the Warehouse District. Expect plenty of floats, dance troupes and throws, all themed after monsters, spooks, and general ghostly goodness.
Additionally, that morning the Krewe hosts its annual New Orleans Zombie Run, so don't be surprised if a Saturday morning in New Orleans all of a sudden feels like a scene from 28 Days Later. This two-mile race starts at 9 a.m. and ends at noon, both at the Lucy's Retired Surfers Bar & Restaurant (701 Tchoupitoulas St.). Participants are encouraged to come dressed as zombies and monsters. Registration for the race begins at 7:30 a.m. You can pre-register online, and tickets are $20.
The fun ends at Generations Hall (311 Andrew Higgins Dr.) with the Monster Mash party. This ticketed costume party starts at 8 p.m.; ages 18 and up to enter ($20-$80).
 This $2 million, brand-new haunted attraction opens on Friday, October 5, on the 14-acre Scout Island (1034 Harrison Ave.) located on a woody patch of land surrounded by lagoons in the City Park. The sets were built by the same people who brought you The Mortuary on Canal St., so expect animatronics, leaping zombies, and all kinds of special effects. While the after-dark haunted scene is for the kids 13 and older, there's a "scare-free" Kid Zone on the island with only-kid-friendly features like a hay maze and pumpkin patch. The Scream Park runs through Saturday, November 3. Tickets are $15 with extra a la carte prices for individual activities (all-access passes are $49).
If you want to be in the heart of the action and don't mind the crowds head to Frenchmen Street in the Faubourg Marigny on the day of Halloween. The celebration has become one massive street party in the past few years, popular with the locals and the visitors alike. It's a great way to see some spectacular and clever costumes in one spot, and to show off your own, of course. Things really get going after 10 p.m., and there are plenty of bars to duck in and out of to recharge and replenish.
Every year, Halloween LGBT style comes with several fabulous events organized by Halloween New Orleans, a nonprofit that's been raising money for Project Lazarus, an assisted-living home for those with HIV/AIDS. This year, the annual Lazarus Ball will be held on Friday, October 26, 7:30-10:30 p.m., at the Hyatt Regency (601 Loyola Ave.). This is a great way to see some of the most elaborate costumes New Orleans has to offer, and party for a good cause.
The "Slideshow" gala will follow on Saturday, October 27, 10 p.m. – 3 a.m., at the Contemporary Arts Center (900 Camp St.). Costumer are required and guaranteed to be spectacular, and you are invited to strut your stuff on stage as you arrive for the crowd and judges.
Halloween at the Airlift's Music Box
New Orleans' much-celebrated musical village, The Music Box Village — a conglomeration of fascinating sound-generating art installations — lives in a permanent space in Bywater (where Rampart Street hits the Industrial Canal), courtesy of the artist initiative called the New Orleans Airlift. There's always something magical cooking at The Music Box Village, and between Thursday, October 25, and Sunday, October 28, it will host an open house/performance piece called "Promised Estates Realty: Life Here is So Rich" (6-9 p.m.). The details are being kept intentionally vague, but the organizers promise "an immersive time-traveling 'haunted house' unlike any other." The Halloween fun at The Music Box continues with "Party in the Estates" on Wednesday, October 31, 7-10 p.m.
There are many themed and historic tours to choose from, especially this time of year, and you can take your pick anywhere from the vampire and voodoo tours in the French Quarter to touring the world-famous cemeteries on Canal St. From the Garden District to Tremé, and around pretty much every corner in the French Quarter, the city has a story to tell.
"Haunted House" Decorations
 There's no shortage of over-the-top decorated houses in New Orleans around Halloween, but some really stand out. The best way to find them is to the check the local listings for the ones set up in and around private homes as the dates get closer, but even a short walk around the French Quarter will unveil some awe-inspiring facades all decked out in their Halloween best.
If you find yourself Uptown, a home of the local resident Louellen Berger's at St. Charles Ave. and State St. is a sight to behold every year, with a 50-plus krewe of skeletons arranged on the front lawn to amuse with biting political satire and a play on the only-in-New-Orleans themes, with all the puns intended. A spooky-fabulous display featuring holograms and projections outside the house on the corner of Magazine and Second Streets also goes above and beyond — with a narrated plot, dancing ghosts, creepy apparitions, and dazzling lights.
More Halloween in the French Quarter
Be sure to read our feature on Halloween for Kids in the French Quarter and Beyond.
---
Related Articles