Things to Do in New Orleans This May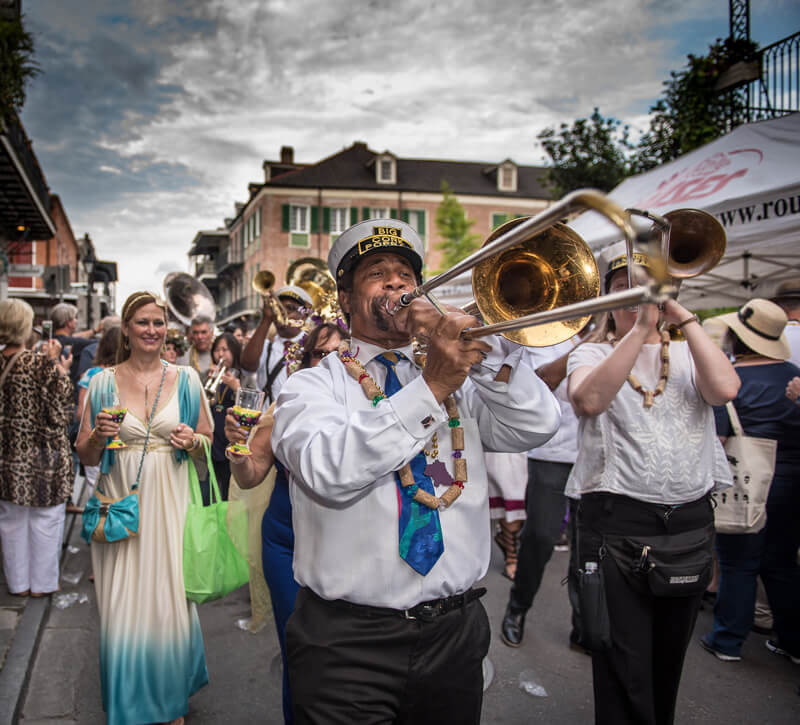 Photo courtesy of New Orleans Wine & Food Experience.
May sits in the New Orleans climatic sweet spot. It's sunny and you can wear shorts on most days, but it's (usually) not super hot yet. Come evening, when the thermometer starts to dip into the 70s, the air feels something like perfect. If you're planning a trip to New Orleans this May, find your French Quarter hotel, and check out these big events you can enjoy during your stay.
Jazz Fest
The biggest musical festival in the best music city in the USA is one of the marquee events of the New Orleans calendar. For the last weekend in April and first weekend in May, the city hosts hundreds of bands and thousands of tourists, who stream into the Fairgrounds from around the world. Dozens of food vendors will show off the best of local cuisine, while artisans create and trade Louisiana crafts. On the days between the weekends, some of the world's great musicians will be partying (and often, playing) at gigs all around the city.
Jazz Fest is a giant event, but once you find your favorite stage and preferred food vendor, and sit down with a cold drink and the breeze blowing across the Fairgrounds, it can also be very intimate – a means of annually connecting to New Orleans at a deep level that is exacerbated by the warm spring sun.
Bayou Boogaloo
The Bayou Boogaloo has become as much a fixture on the festival calendar as its Mid-City neighbor, Jazz Fest, and the city's street-party season opener, French Quarter Fest. What started as a gathering of a few hundred festival diehards has grown into a part that attracts tens of thousands of guests.
Bayou Boogaloo is free. But its bucolic setting as a floating party, with its flotillas of inflatables, paddle boats and kayaks, gives the three-day festival its own unique character, while its stellar lineup of local and visiting musical artists rivals those offered by its much-bigger older siblings. So does its ever-growing menu of fest-worthy food and drink.
New Orleans Wine & Food Experience
The annual New Orleans Wine & Food Experience provides local and visiting epicureans and hobbyists an extended weekend of libations and culinary indulgence in a style that is uniquely New Orleans. NOWFE is designed to encourage participation in the full gamut of food and wine-centered experiences. The event offerings include package rates, activities, and dinners with something at nearly every price point with attire ranging from costumed to cocktail depending on the event and venue.